25 great places in Batumi and around it that are worth visiting. Where to go except the beach.
Dancing Fountains
Actually, there are 2 dancing fountains in Batumi — one near the registry office and the othe near the House of Justice.
Both are rather nice, but the second one is more attractive for musical accompaniment and for special effects. And it also has 3D-projections.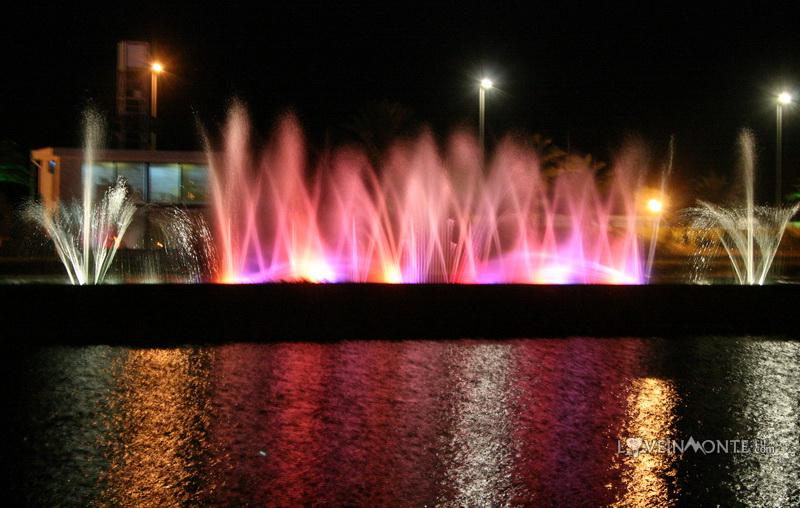 This is a nice place to spend an hour or two.
The fountain doesn't work in the morning and afternoon, but the place is still beautiful.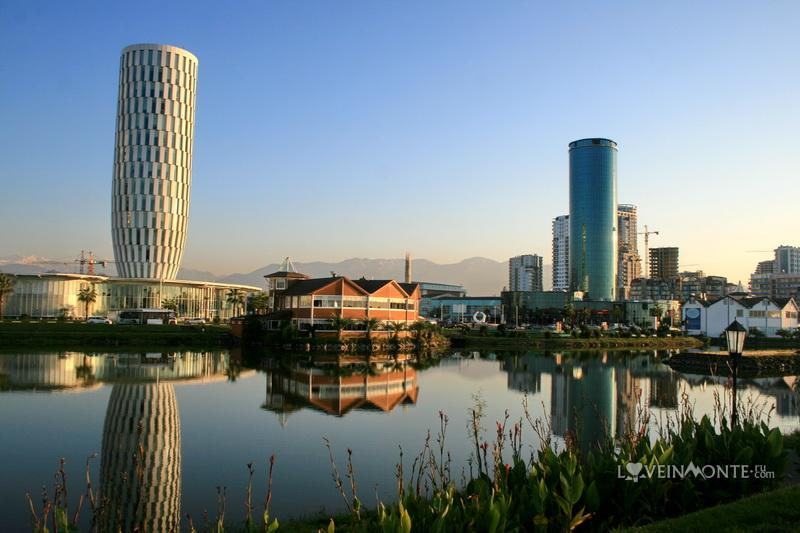 Europe Square
A very cozy, beautiful square in the very center of Batumi.
The main Christmas tree in town is installed here in December.
And various festivals are held at the Europe Square in summer.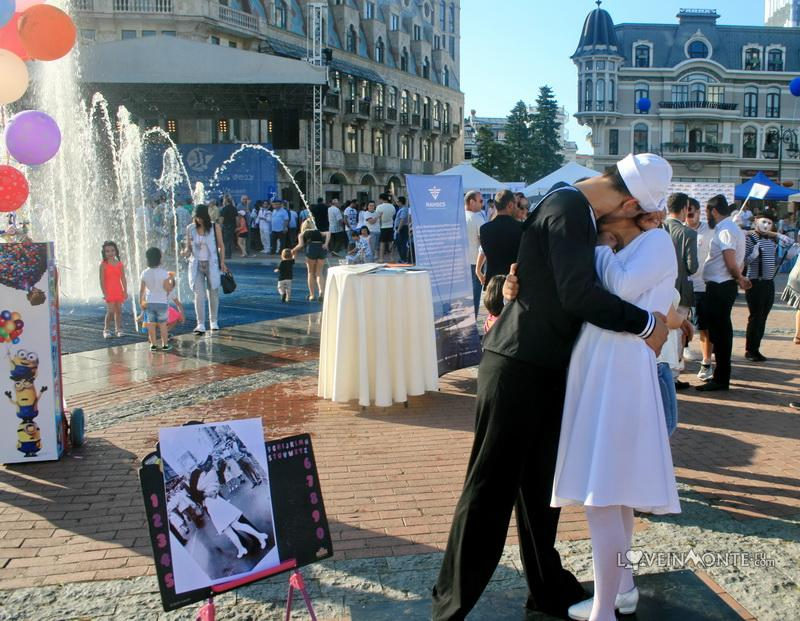 In the evenings, the buildings are beautifully illuminated.
And a statue of the Queen of Colchis with a golden fleece in her hands.
And also a building with an astronomical clock. Lots to see, right?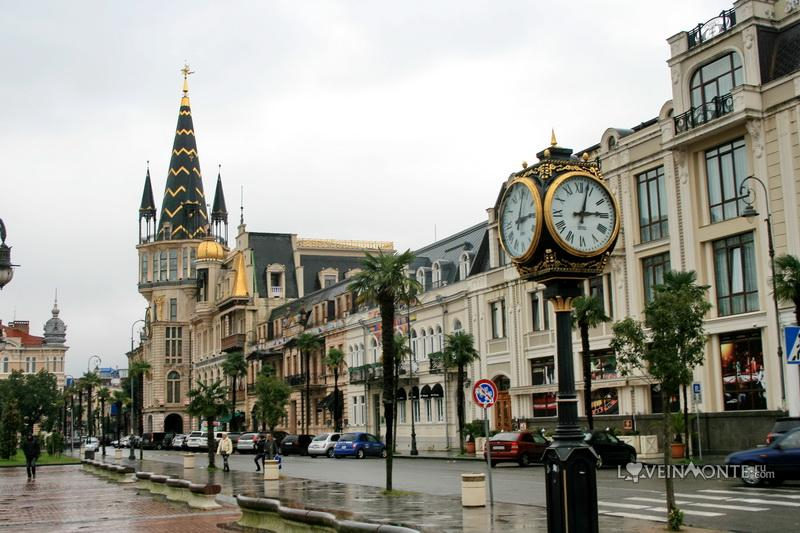 Alphabetic Tower
The tower of the Georgian alphabet is a tall building of unusual shape, if you don't know its' concept.
The architect's message is to connect the georgian alphabet with DNA.
There is an elevator which takes you to the top, where there is an observation deck and a restaurant.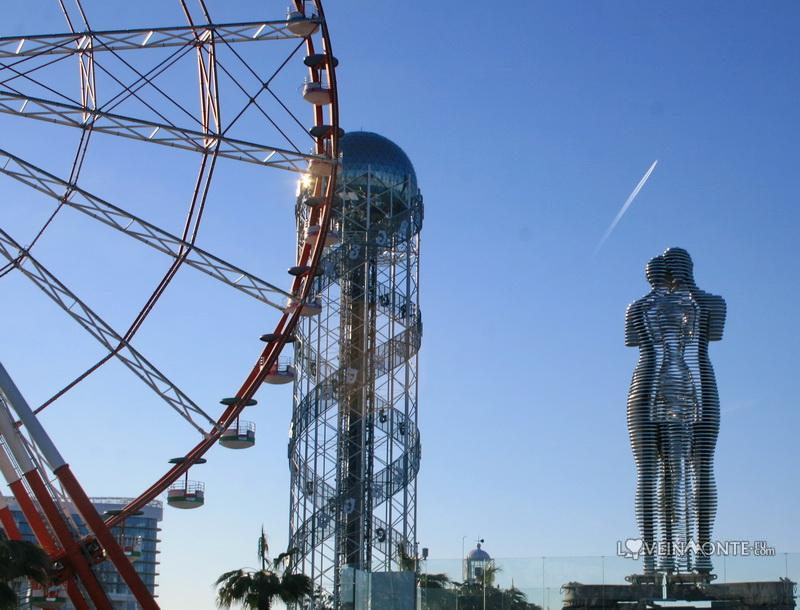 Several times we planned to go up, but constantly changed our minds. Actually, two factors confuse me: 8 lari entry fee per person, even if you go to the restaurant. So if you're with a company of 3-4 people — the price you pay at the entry is equal of eating & drinking in other restaurants.
And the second fact — Iheard that the windows there are dirty. Which is strange for a view point.
There is a lighthouse, a ferris wheel, some interesting sculptures and benches near the tower.
These remind me of teeth, Sasha said they look khinkali, but they probably symbolise pebbles)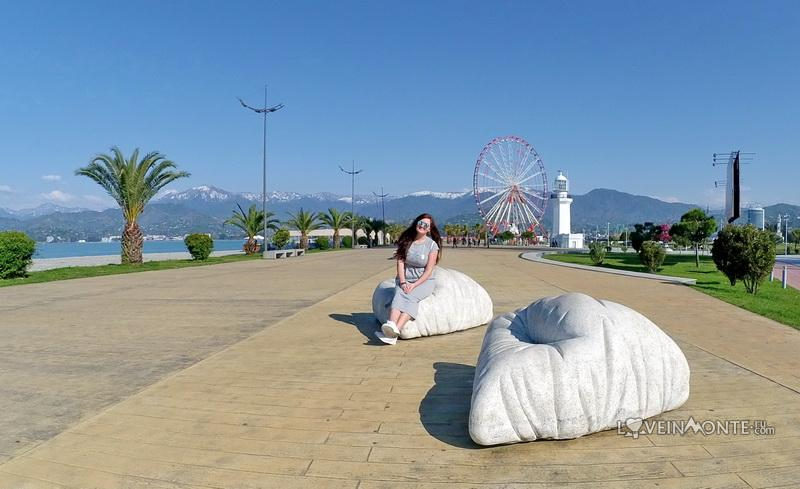 This whole place is called «Miracle park» & it's all illuminated in the evening & looks gourgeous.
As well as in daytime.
The ferris wheel is a little bit lost on the background of higher buildings, but it's also quite fascinating to ride on it. It costs 3 lari per person and is worth each of it, I think.
It may be closed some days, and I still can't understand on what it depends. Weather, day of the week — are not the matter)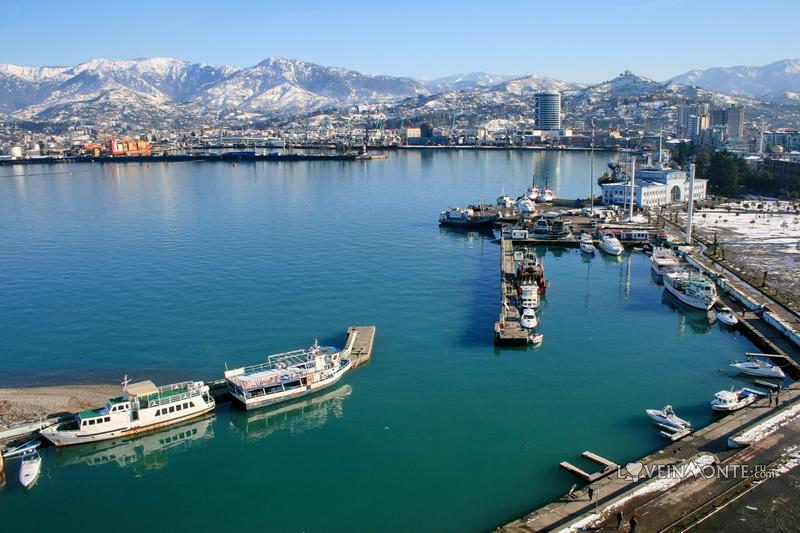 Ali and Nino
The rotating statue of lovers Ali and Nino is one of the visiting cards of Batumi.
The idea is amazing, dedicated to the love of a Georgian Christian girl and an Azerbaijani Muslim guy. Actually, yhere is a novel and a film about him «Ali and Nino.»
Figures of a man and a woman are constantly moving, then merge with each other, then diverge in different directions.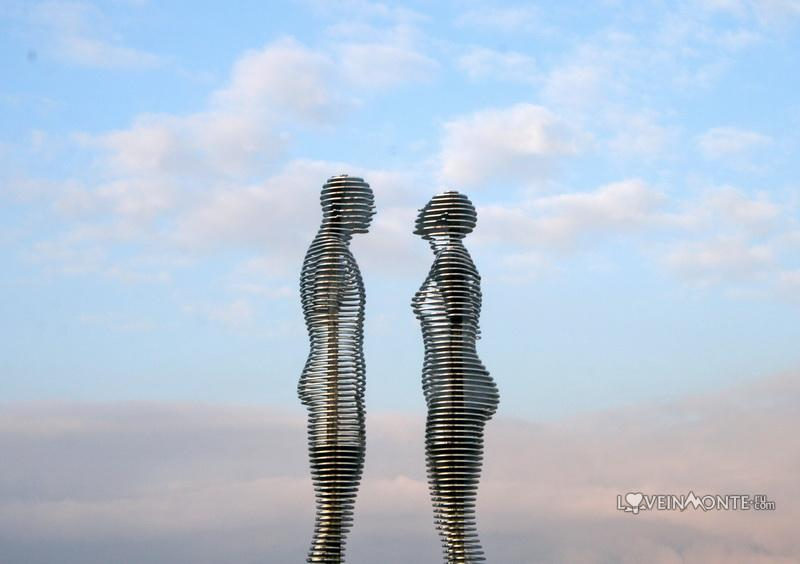 It looks amazing. But I was surprised by the size) On the photos in the Internet, it seems to be 3 times higher than it actually is.
Seaside Park
If you move away from the boulevard a little bit, you will meet the evergreen, always blooming, large and very exciting park.
In summer,there are festivals on weekends. And on ordinary days there is also some nice eye-catching things.
For example, a small bamboo grove in the center of the city. I was surprised when I first saw it.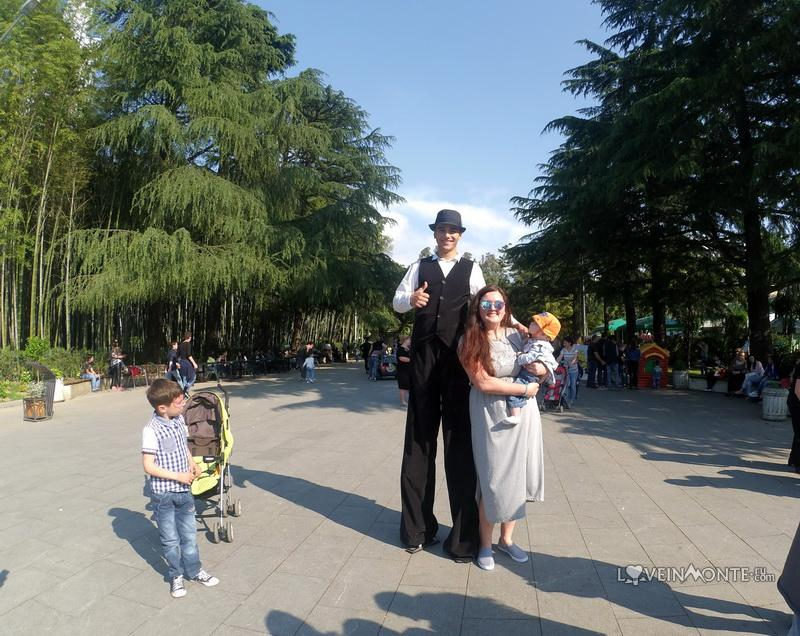 Batumi Boulevard
Batumi Boulevard and long walks were made for each other.
You can walk it through, till the airport. And there's a nice spot to watch the planes land & departure.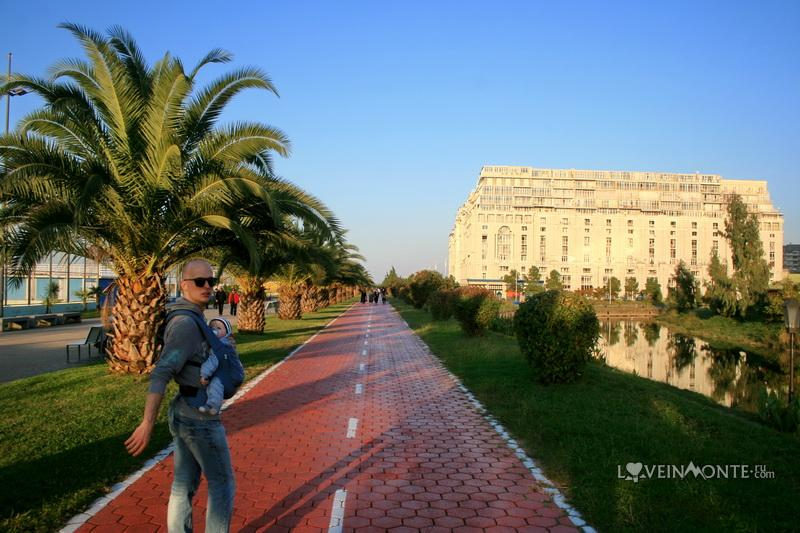 You can also take a ride — there are lots of places to rent a bycicle.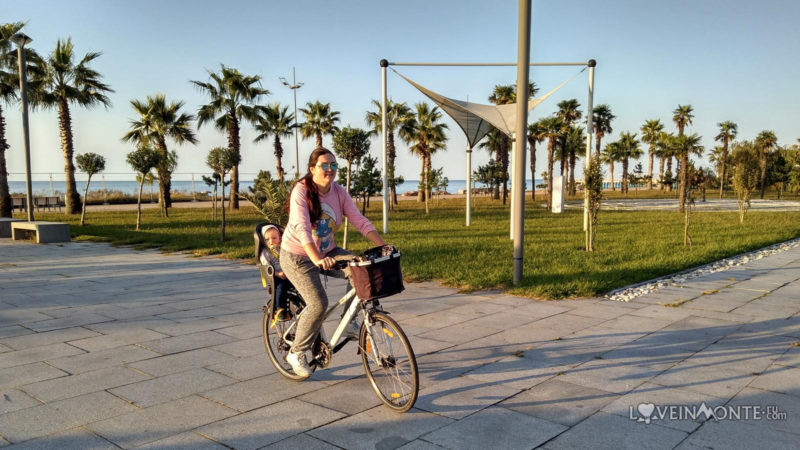 Or something like that.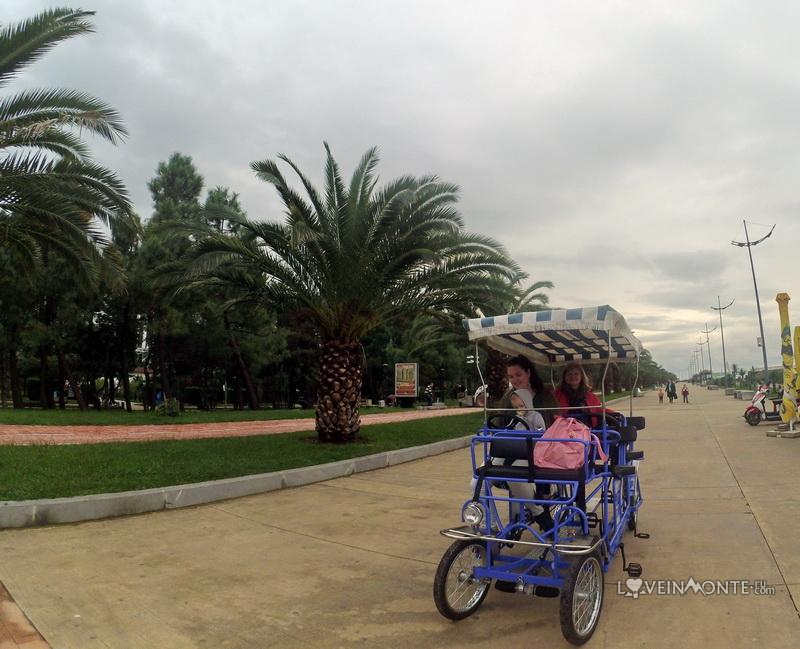 But trust me, bycicle is much better)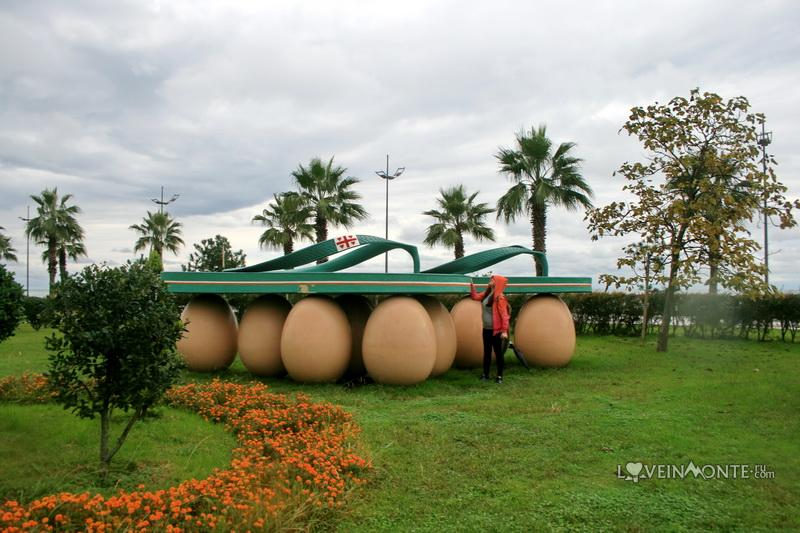 Labyrinth of Desires
It is also located at the Boulevard, I just wanted to mention this place separetely. You can read about it here.
My desires come true, so I suggest you to go there.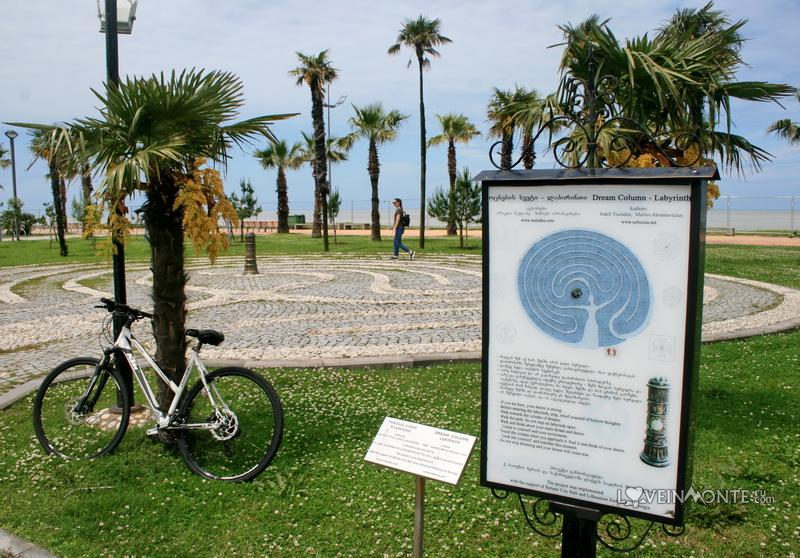 In the evening, the labyrinth is highlighted, so you can come and make a wish at any time you want.
The runway
If you walk along the boulevard for a long time, you will reach the airport.
I can't describe the feeling when you are standing by the sea looking at the plane flying above your head. That's just crazy!
Beach is is being repaired there, so the view spoils the grid a little. But still — crazy & worth visiting.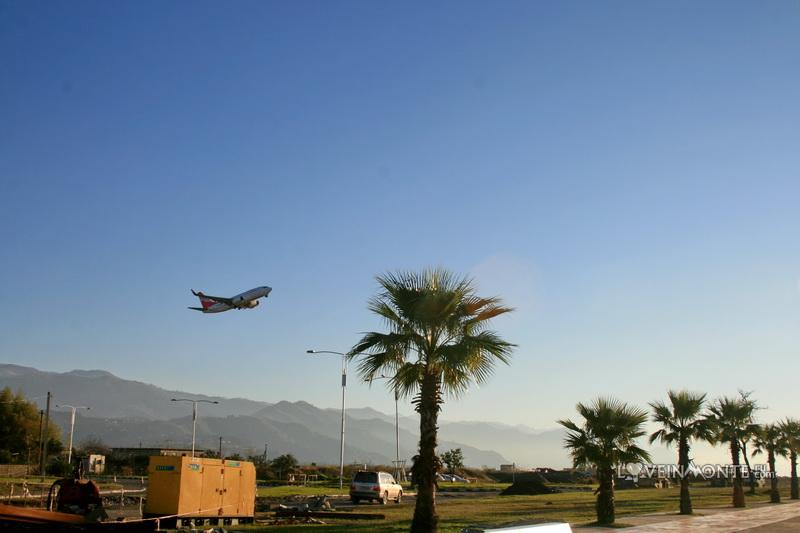 By the way, there is another place with a runway view, but on the other side if you go from the airport in the direction of Gonio.
Marine Station
It's really nice to go there. Walk along or sit, watch the ships, fishermen, and sometimes if you're lucky — the dolphins, too.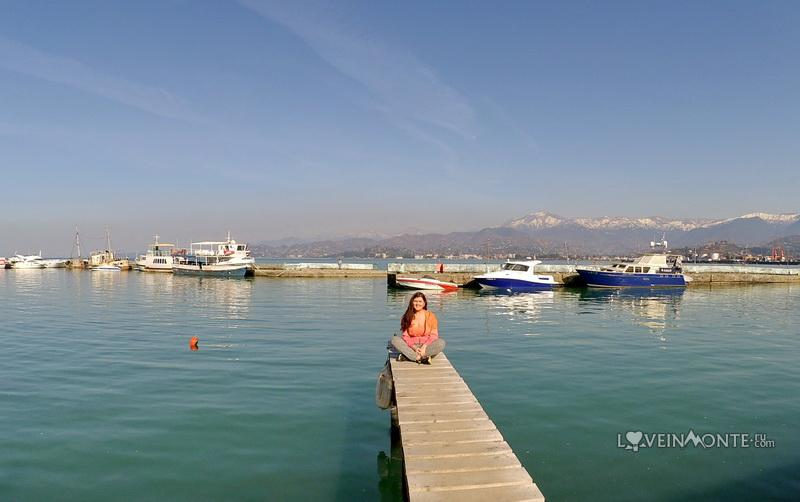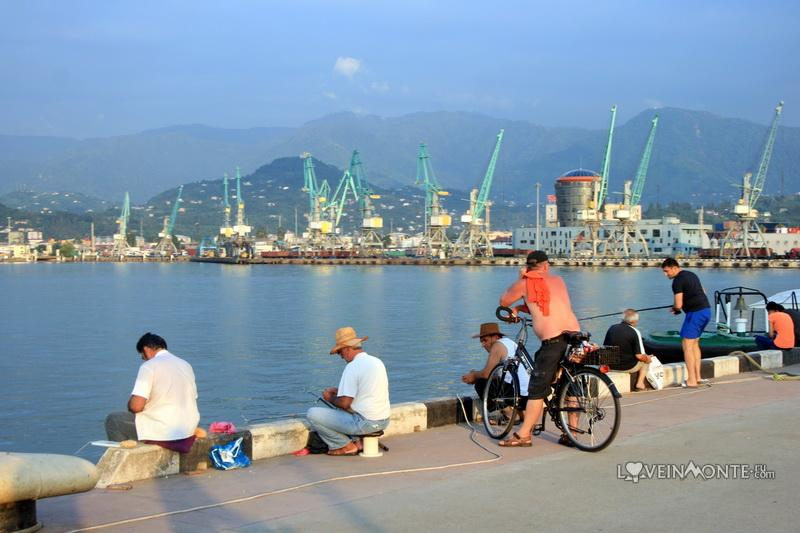 Argo cable car
The popular landmark of Batumi, the view point on mount Feria, plus the opportunity to view different parts of the city along the way.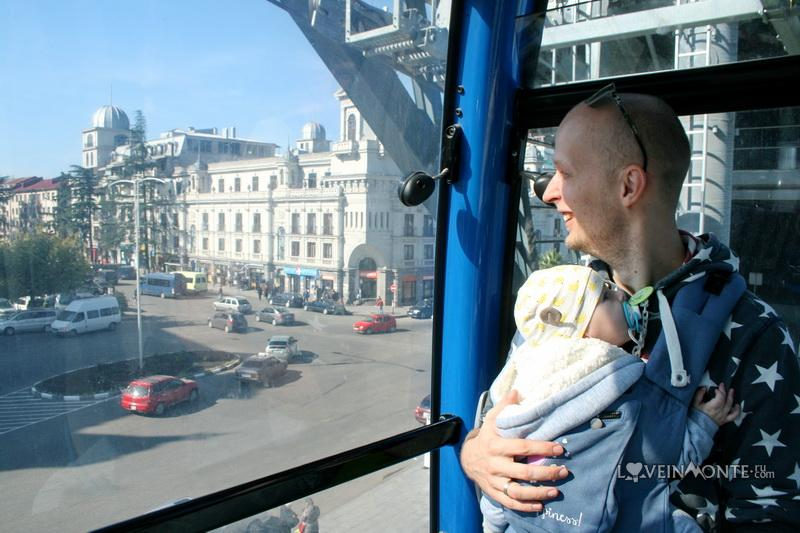 Don't go there in the rain in the rain & fog)
But in sunny weather it's so pleasant there.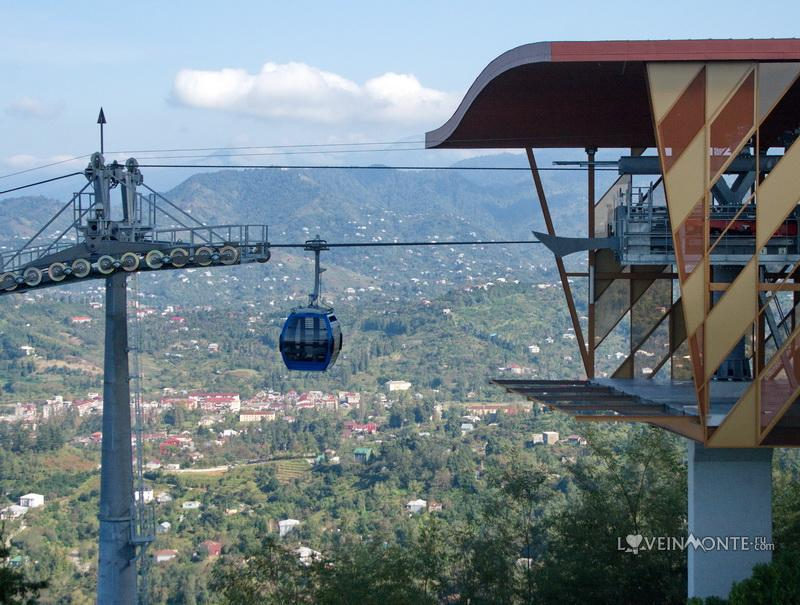 Cathedral
A large and beautiful Gothic cathedral is definitely worth a visit.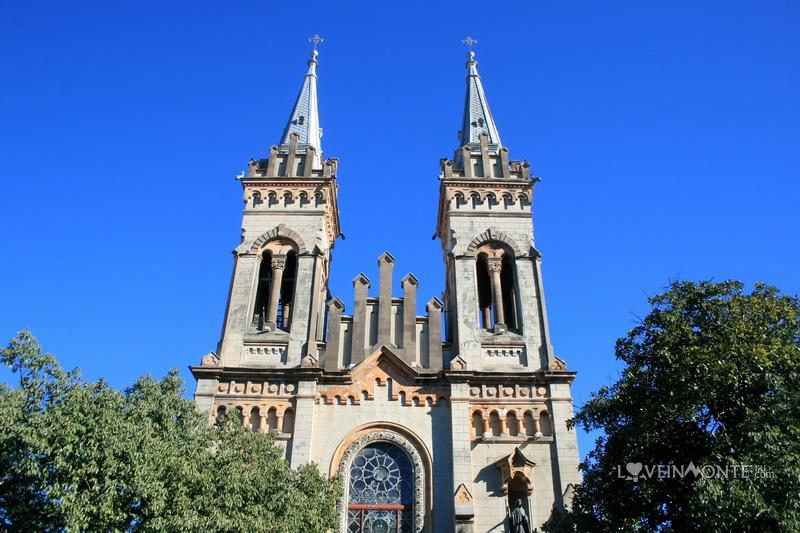 As a bonus if you come in autumn — you can pick and eat some barberry beside the temple.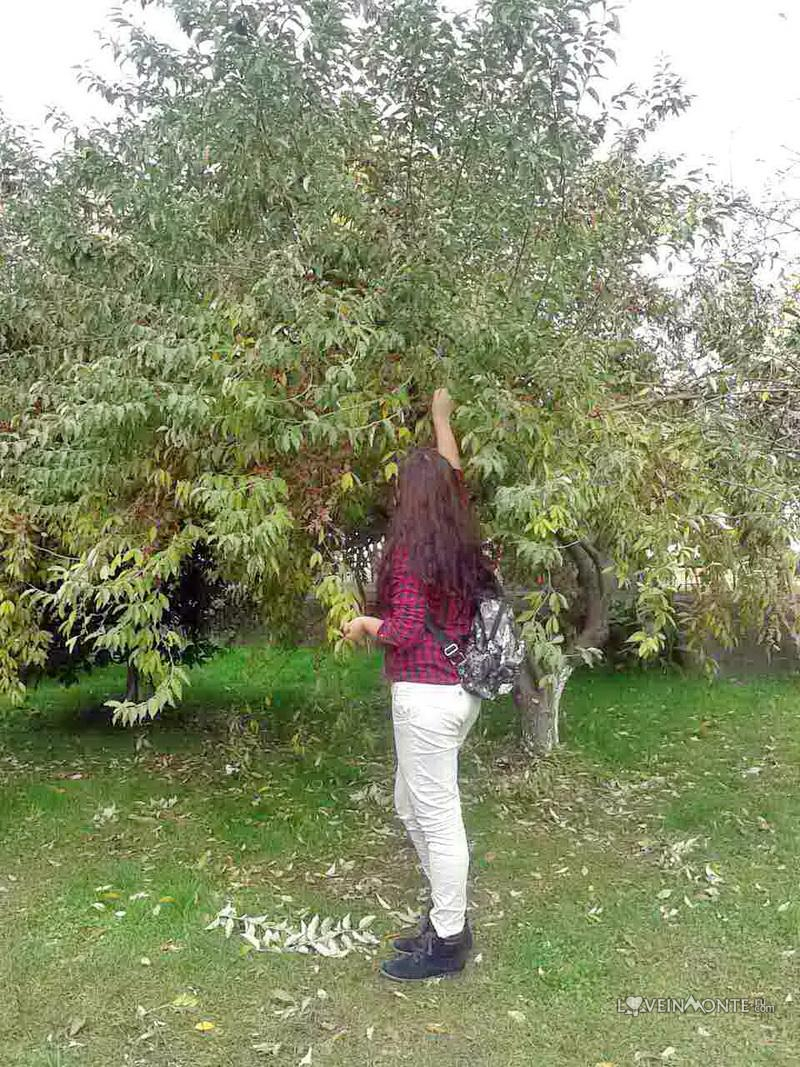 There are other beautiful temples in Batumi.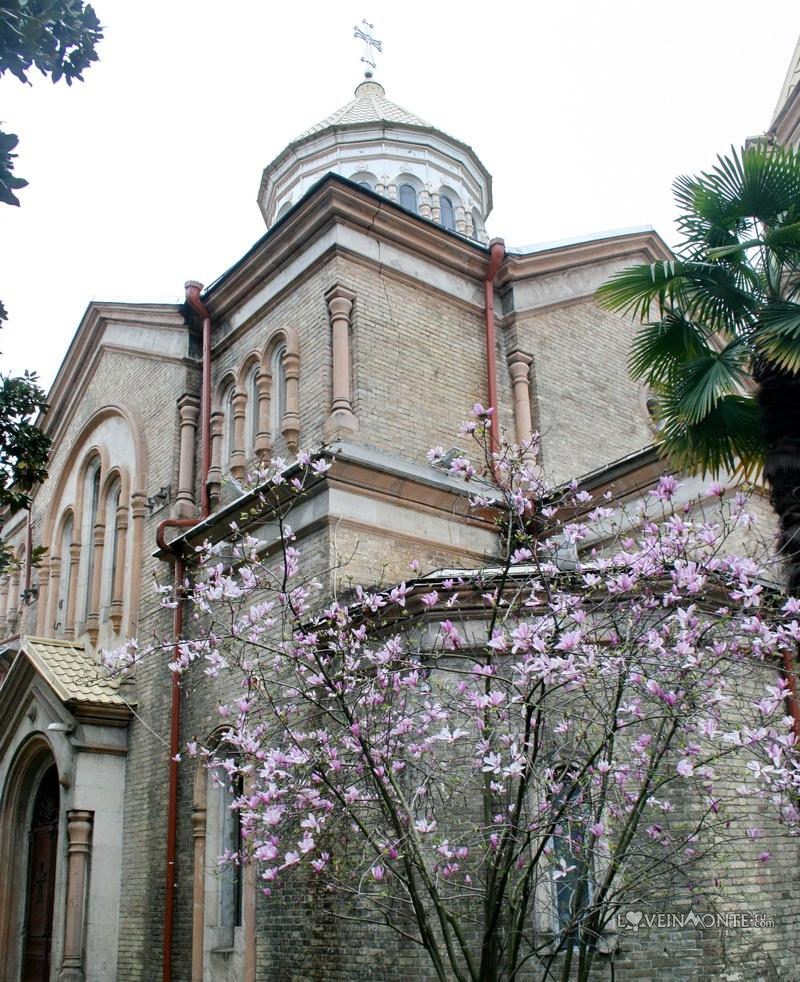 Piazza
Piazza is a beautiful Italian style square in the center of old Batumi.
In fact, this are new buildings) But they look very cute. Stained glass, mosaic, stucco molding.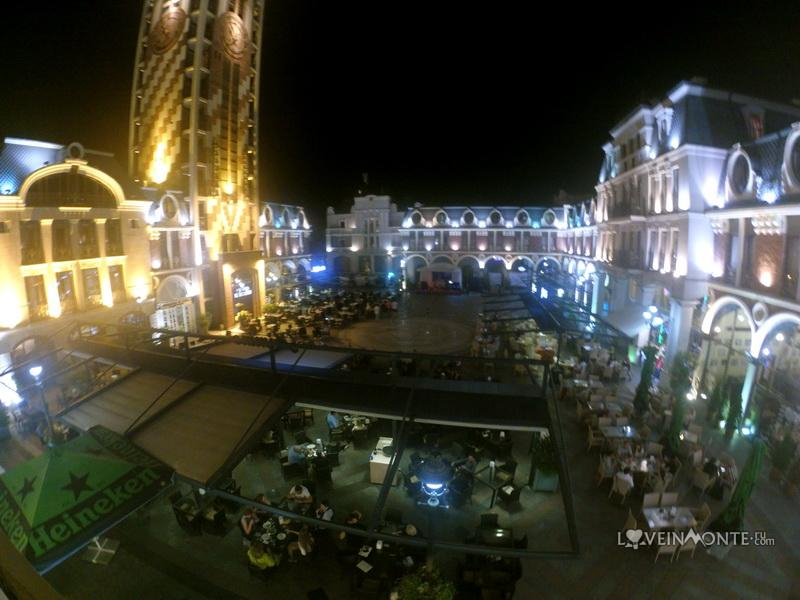 Есть несколько кафе, сцена, где летом постоянно кто-то выступает.
There are several cafes at the square, a scene where musicians perform every evening in summer.
Charming quarters of Old Batumi
Many tourists, including me, like to wander through the old cobbled streets of Batumi, look around and just enjoy.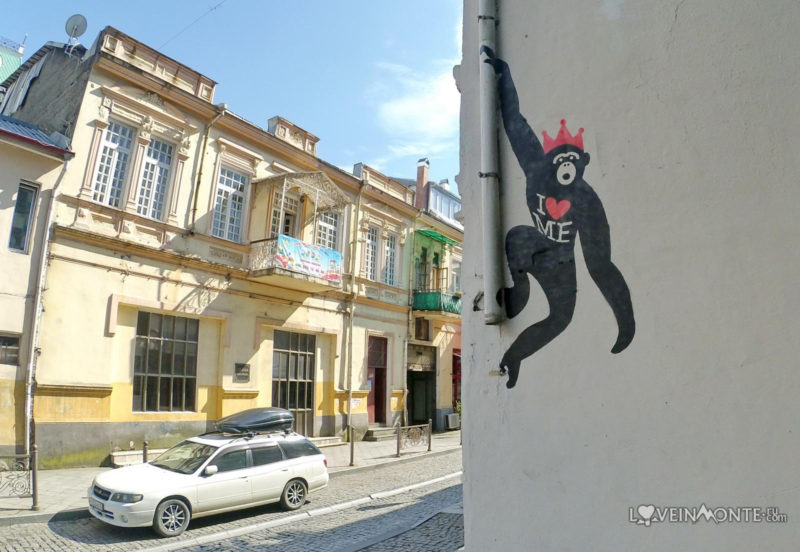 The Neptune Fountain
Many guidebooks praise the theater and the square and the fountain of Neptune, which is located on it.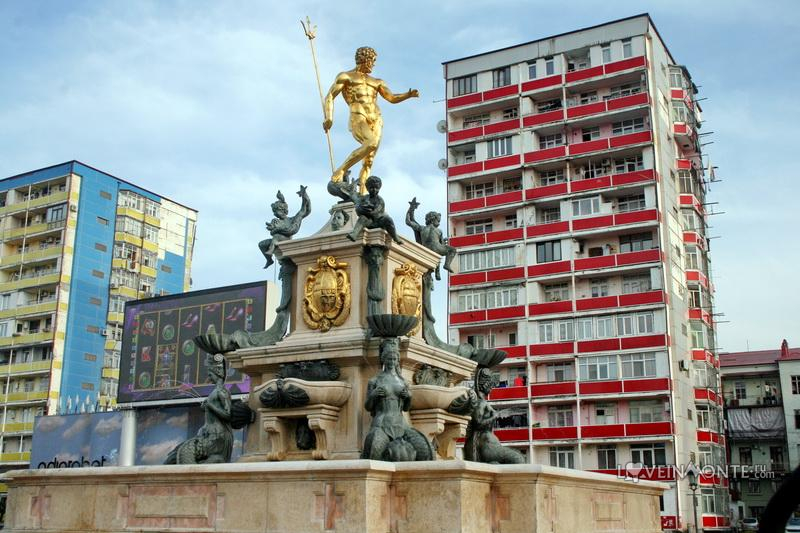 I don't share the enthusiasm. Interesting fact — it is a copy of the Fountain of Neptune in Bologna) And not a very detailed one. You'll be shocked if you see them both & compare)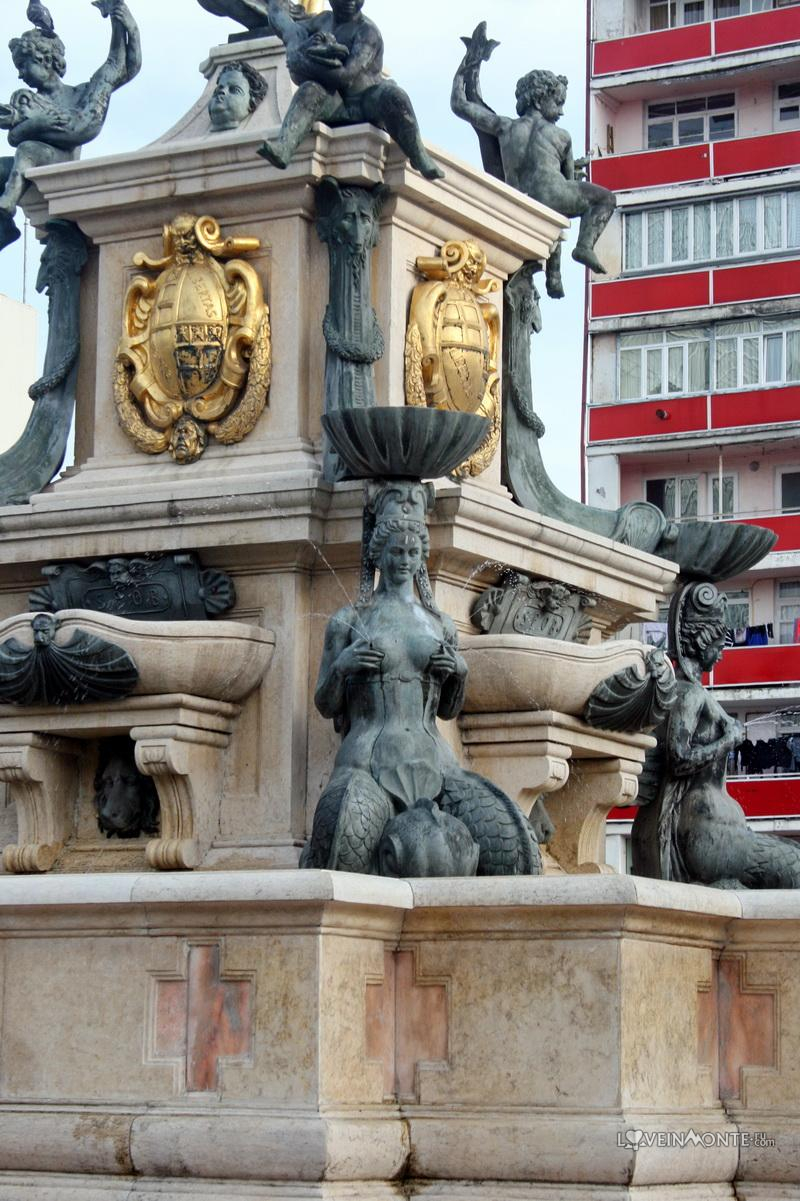 The fountain is in the city center, among the palm trees and casinos. Nearby is the drama theater, but it is currently closed for renovation. There are benches to sit and relax.
6 May Park
6 May Park is a nice place if you are fond of walks along the lake.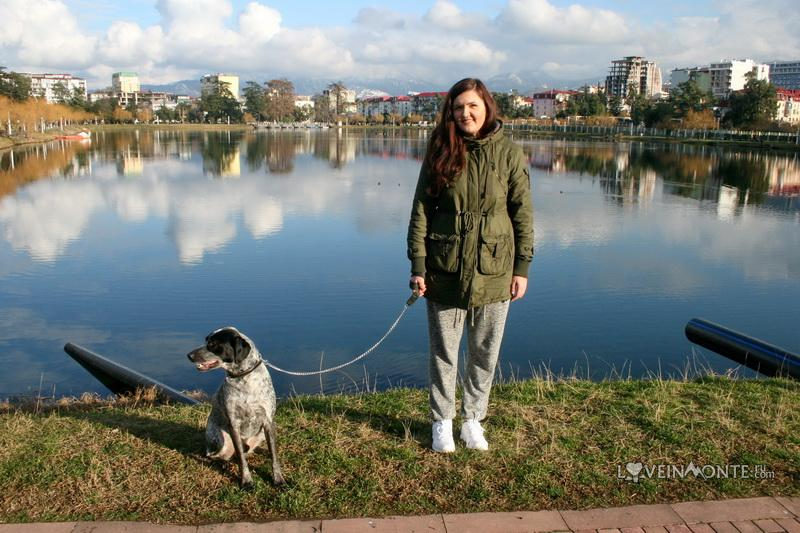 There are also a small zoo, children's attractions, aquarium and dolphinarium.
In the summer there is an open air cinema, in the evenings you can lie on the grass, watch cartoons and movies. It's free.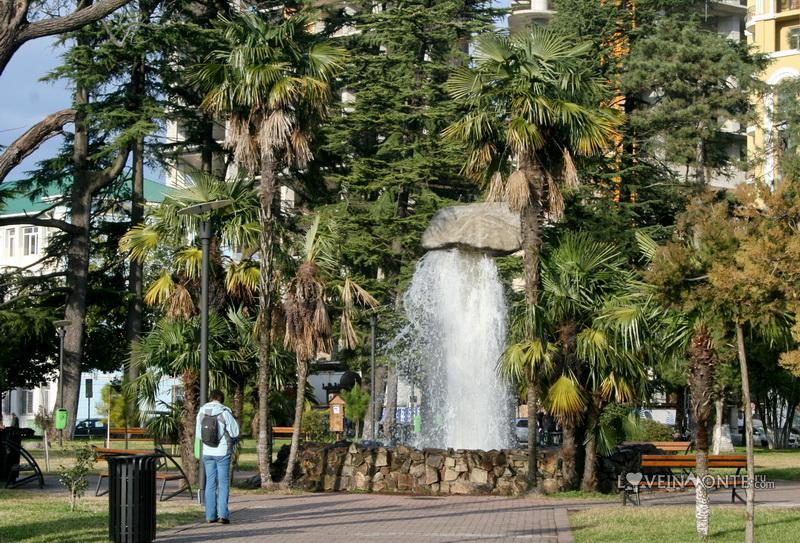 Festivals often take place there.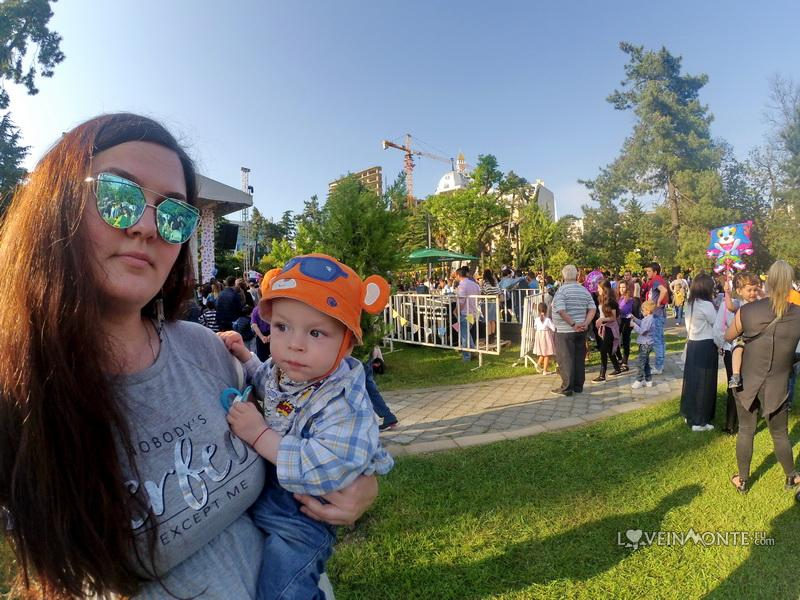 Dolphinarium
The dolphinarium offers an interesting program with many dolphins, which will suit both children and adults.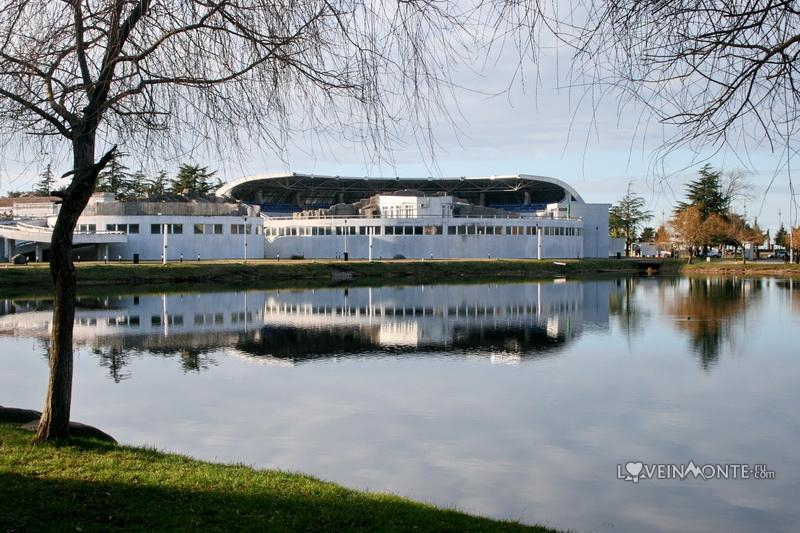 If you want you can swim with dolphins, and it's not too expensive.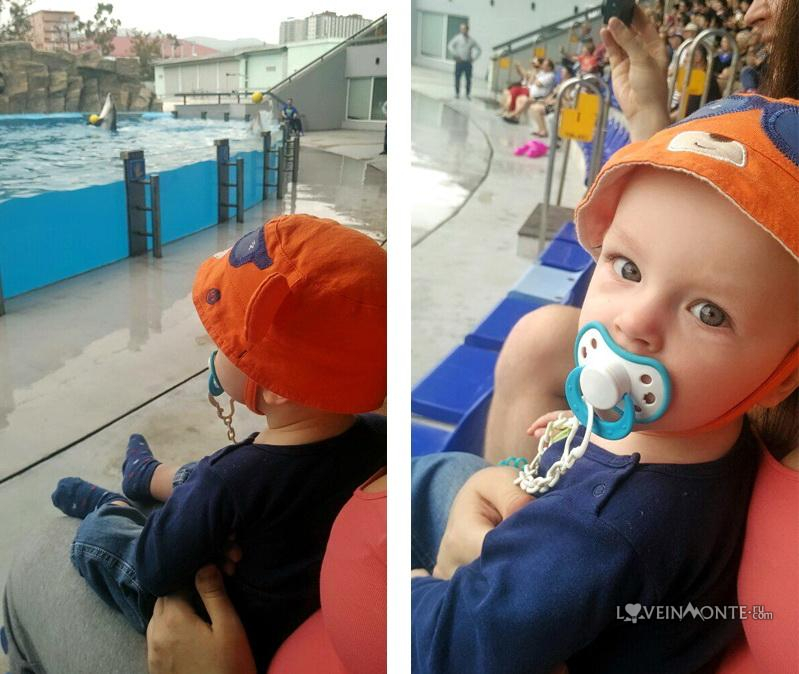 Parehi market (Boni)
My mother remained impressed by the usual grocery market. Well, and me, too, and the first timehere was like a decent tourist attraction)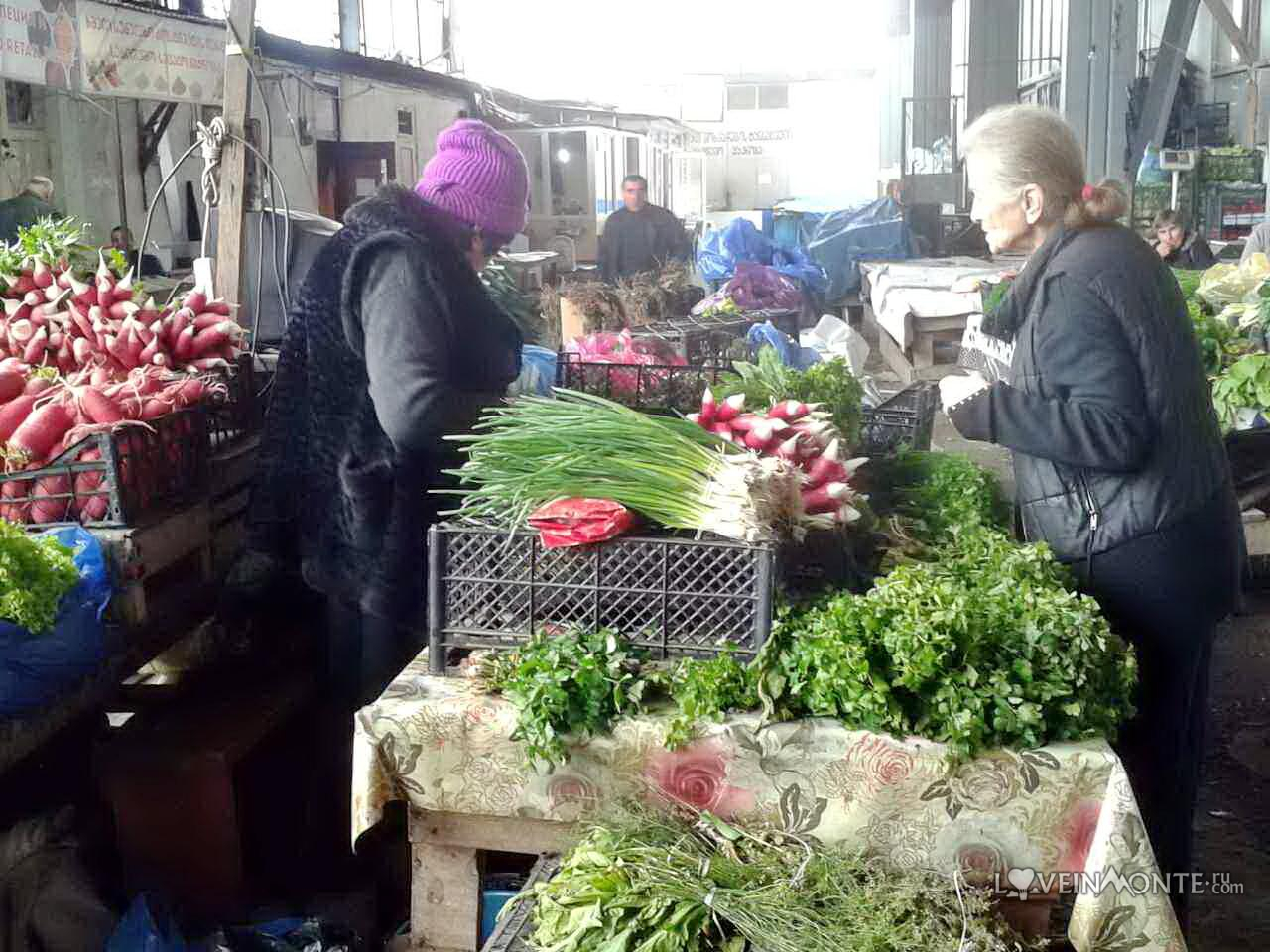 Probably, it is worthwhile visiting at least once, even if you come for a short trip.
Best spices, nuts and churchjela, fruits, vegetables & greens can be found on Boni.
Fish Market
The fish market is a small room full of all kinds of fish that can be found in the Black sea & Adjara rivers.
Come, look, choose, buy — if you wish, the fish will be cleaned & dismantled right there. You can take it home and cook on your own, OR you can go to a cafe next door — there the fish will be perfectly cooked.
Choose the Blue Wave, it has a sea view.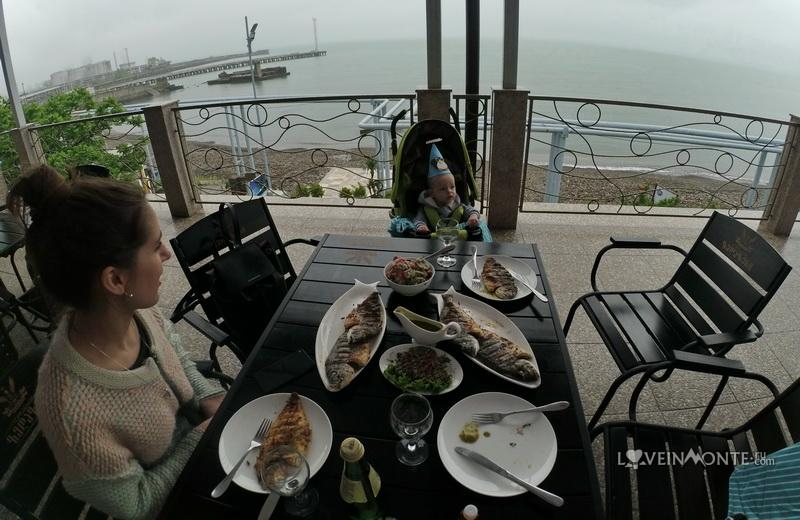 Wine cellar
You should definitely visit a wine cellar. Or a room. Or a bar. I advise you to visit at least one (and better, not one) place, specializing in wine. There are a lot of them, they are different.
If you are lucky with the seller — it will be a full-fledged excursion into the world of Georgian winemaking)
Botanical Garden
We visit the Botanical Garden regularly, and are still not tired of it. At different times of the year it looks different.
Plus, you can walk on completely different routes, there are a lot of them.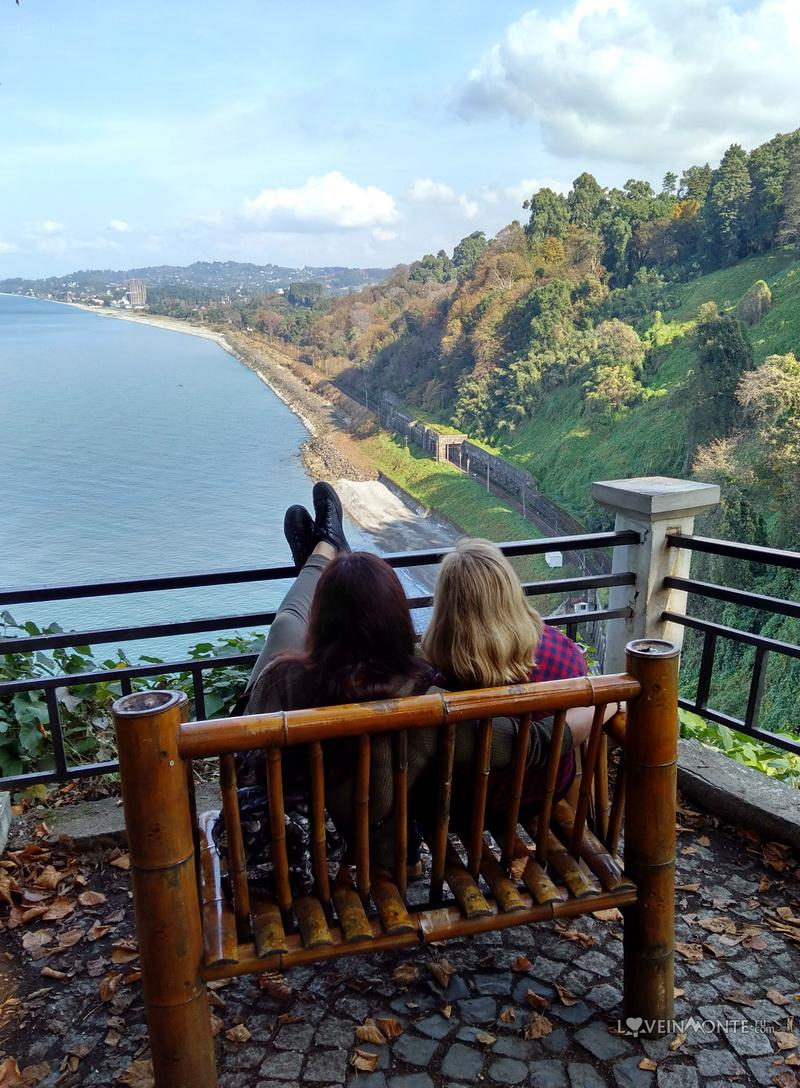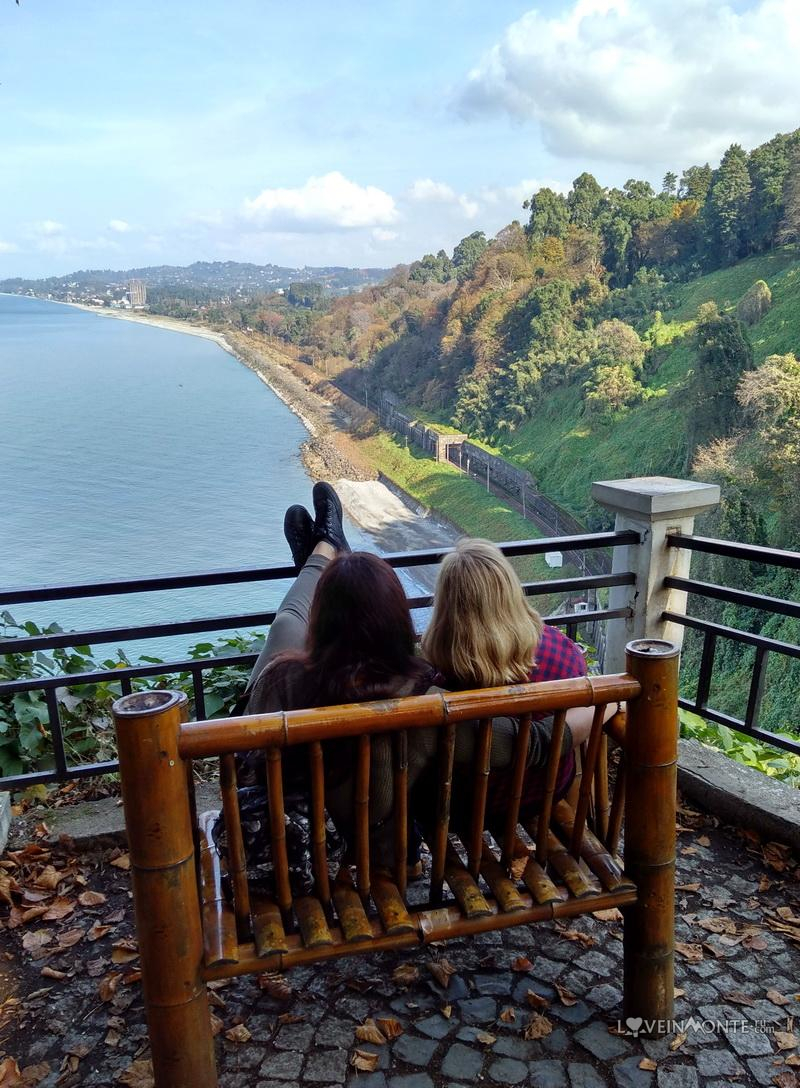 The cross on the mountain in Ahalsopeli
Very few people mention this place, can't understand why — this is a great view point.
We found it in the summer & were totally amazed. And we even moved here from the city center & lived there for 6 months.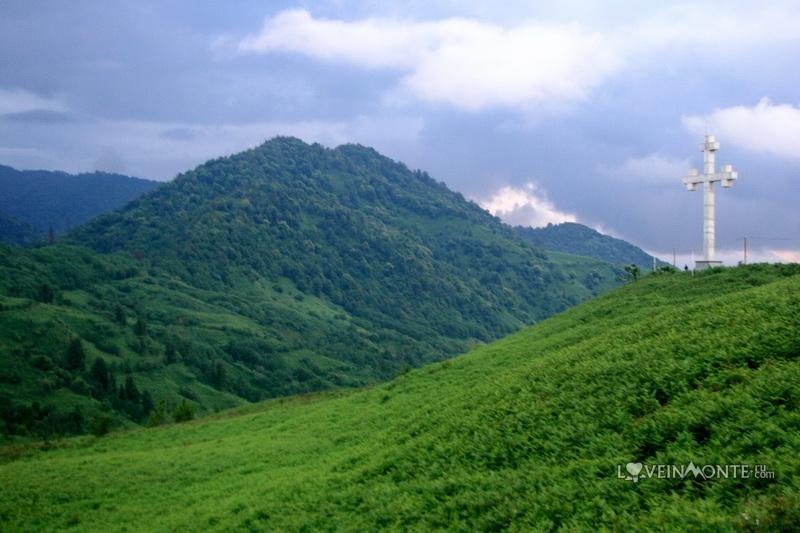 I believe that this is one of the most beautiful places in Batumi. Especially in spring and summer, when all the mountains are green.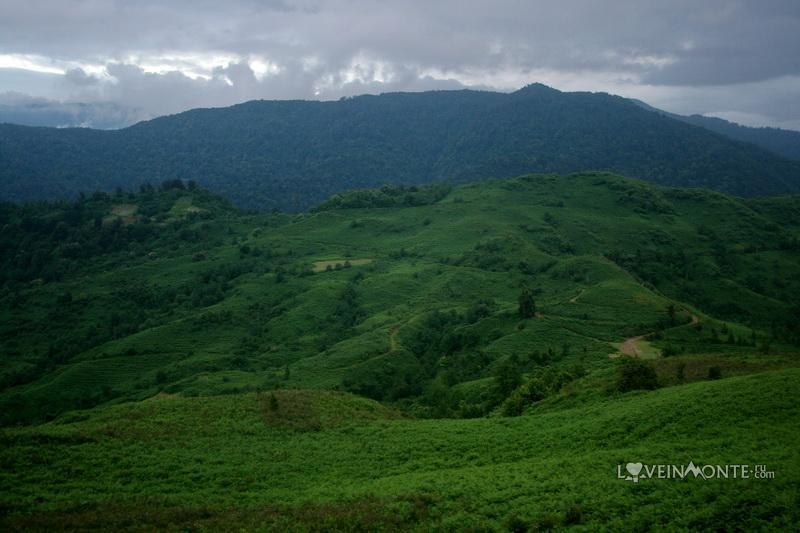 You can see Batumi, the Black sea, many0many mountains, and even Turkey.
Sarpi
Unusual building of the Georgian-Turkish border right on the beach.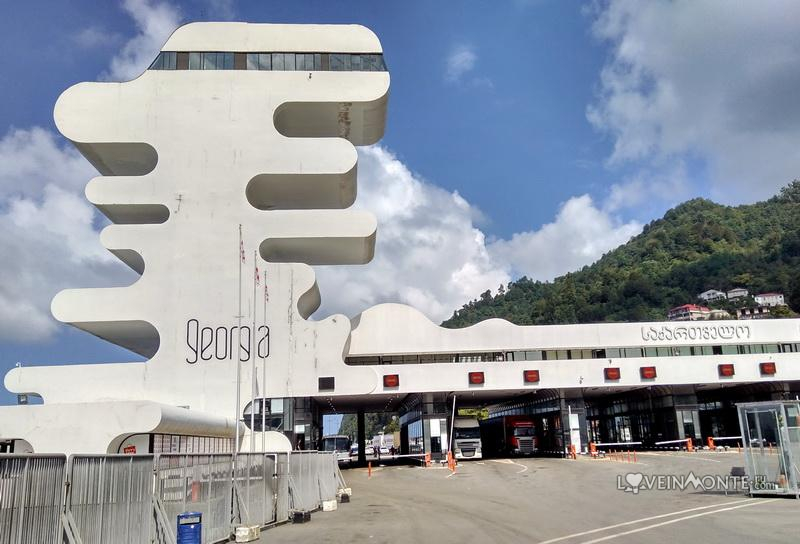 And a small waterfall.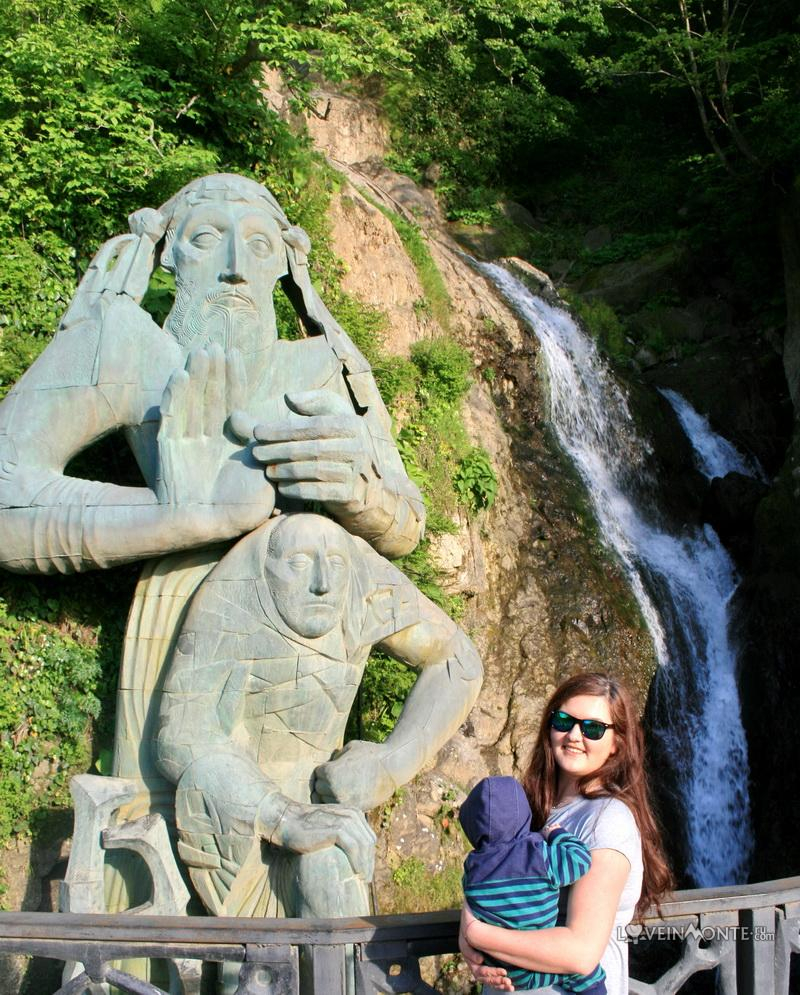 Sameba Church
The church on Mount Sameba is another place that I would advise to visit.
Monastery, mountains and a beautiful view of the city.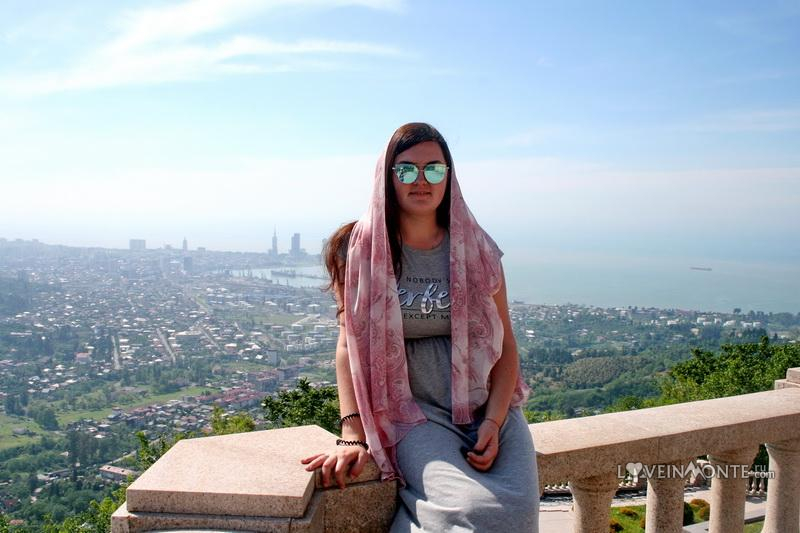 Petra Fortress
On the way to Kobuleti there is the fortress Petra.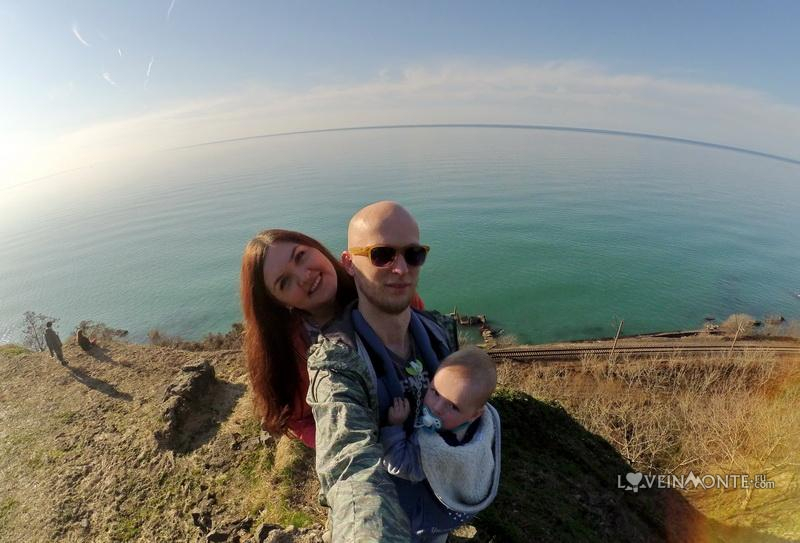 It is half-ruined, but you will be pleased, if you like climbing in ancient buildings.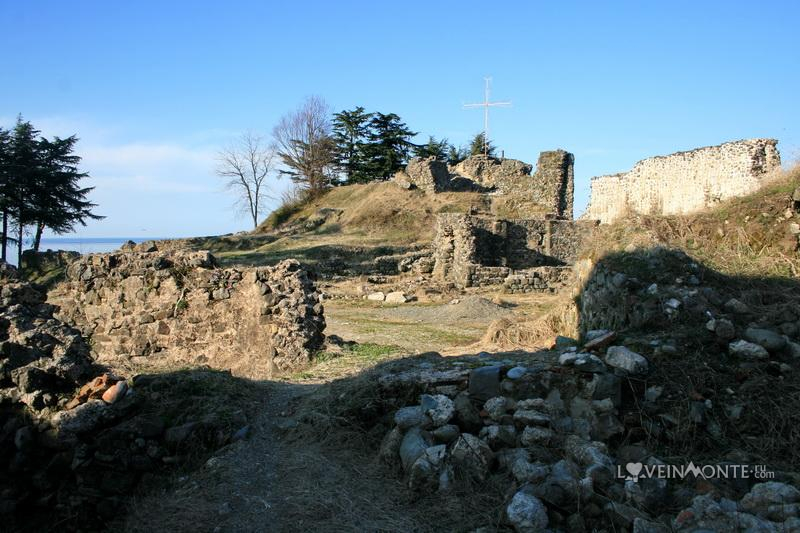 Tsitsinatela and the park of miniatures
If you come to Batumi in summer, or even from May to early September — I advise you to visit the park of attractions Tsitsinatela near Kobuleti. It works only in the summer and only in the evenings.
You can find many entertainments for children and adults, completely diverse attractions, and the prices are rather low.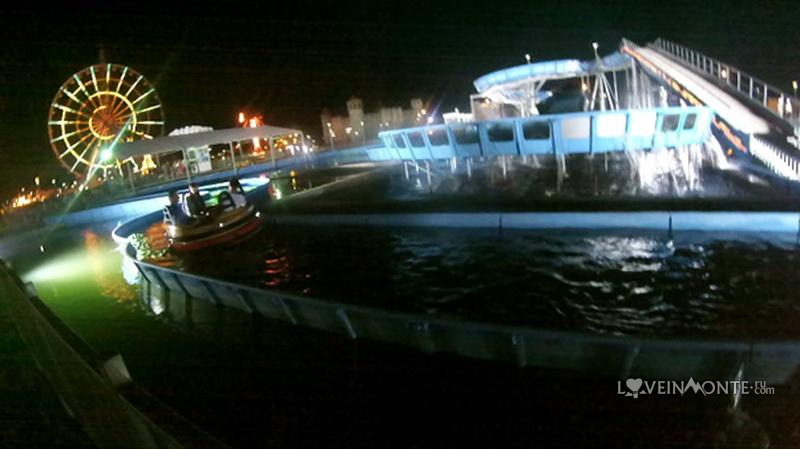 And there is a miniature park next door, where various famous places of Georgia are gathered together.
There are many other interesting places that did not fall into this list simply because I like them less)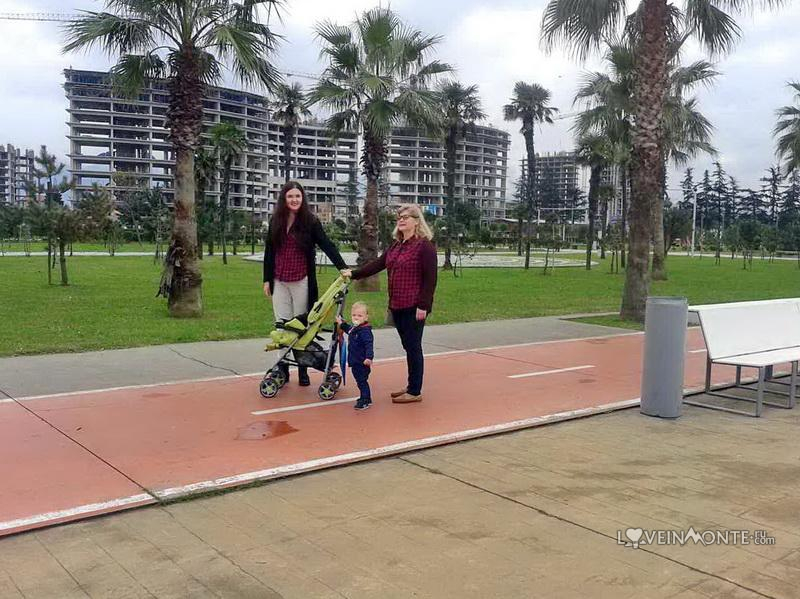 Come to Batumi, there're tons of places worth seing! Ciao!