Since my hubby Sasha has just got a driver's licence and now can legally ride a motorbike in Thailand, I want to share this useful and up-to-date information what to expect if you're going to get the licence in Chiang Mai.
In some parts of Thailand, you can easily avoid this procedure, drive without a licence and not get into trouble if you do it carefully and wear a helmet) But here in Chiang Mai — it's almost impossible since the city is full of traffic police posts, even a map of them exists — but it is often impossible to get from some part of the city to another not passing through potentially dangerous places.
I even say a video on Youtube, where a guy stumbled at 5 police posts in 30 minutes while driving through the city center. He was stopped at each one — they hunt mostly the foreigners, driving without helmets or documents.
According to Thai laws, you can drive a vehicle if you either have a Thai driver's license or an international  one (a small book, not a plastic card) of the appropriate category.
If you don't have any of them and are caught driving a bike — you'll be fined by 500 baht (but they tried to get 1000 from us when we got sttopped). And as a rule they give you some document that allows you not to pay another fine for 2 days if you meet traffic police again.
If you stay in the city for a couple of weeks / months, it makes sense to get a local driver's license, which will last 2 years.
Not only you'll become a full-fledged participant in the road, but also get some benefits like special ticket prices to some national parks — you'll pay as a citizen, not a foreigner. But this does not always work right, often you still have to pay at tourist tarriffs.
Documents Required
The procedure itself is quite simple, and even foreigners with tourist visas can get licences. The main thing you need to get is Residence Sertificate, and for this you must be registered by a hotel or a guesthouse owner in the local Immigration Office from the first day of arrival — and get the TM30 form.
Not all the hosts can help with this. For hotels it is a must, but as for with private persons — things may vary) Before arriving in Chiang Mai, we wrote to all potential hosts on Airbnb and asked if they could register us. Some did not know what TM 30 was at all) Two of them agreed to help, but one eventually let us down less than a week before arrival and wrote that «he tried very, very hard, but could not manage» and it turned out that he was not the owner at all. As a result, we booked the other house where we live now — there, as promised, we were registered upon arrival.
After this step, you will receive a leaflet — form TM 30. If the owner filled out the data online, you can come to the Immigration Office yourself, go up to the 3rd floor and ask you to print this document for you, it's free.
After that, also in the Immigration Office, you need to order a Residence Sertificate. It is free, and in other cities of Thailand it is done quickly and without any problems. But in Chiang Mai for some reason it takes THREE WEEKS to get this document. If you want to receive it the next day, you have to contact the company, which is located across the street from immigration. Itdeals with various visa issues, including these things. The price will be 1000 baht.
You'll also need a Health Certificate. It can be done in almost any hospital and it will take about 15 minutes ( if there is no queue), the average fee is 150-200 baht. The most convenient way on the way to the Land Transport Office is Klaimor Hospital.
To sum up — you need to bring to the Land Transport Office:
your passport,
2 photos,
copies of the passport: the page with photo, page with thai visa and stamp on entry, copy of TM 6 — the for you filled out when entering the country,
Residence Sertificate,
Health Sertificate.
If you're planning to get licences both the motorcycle and the car, you will need 2 sets of these documents. As far as I know, you can simply make copies of Residence & Health Sertificate, but I'm not 100% sure about that.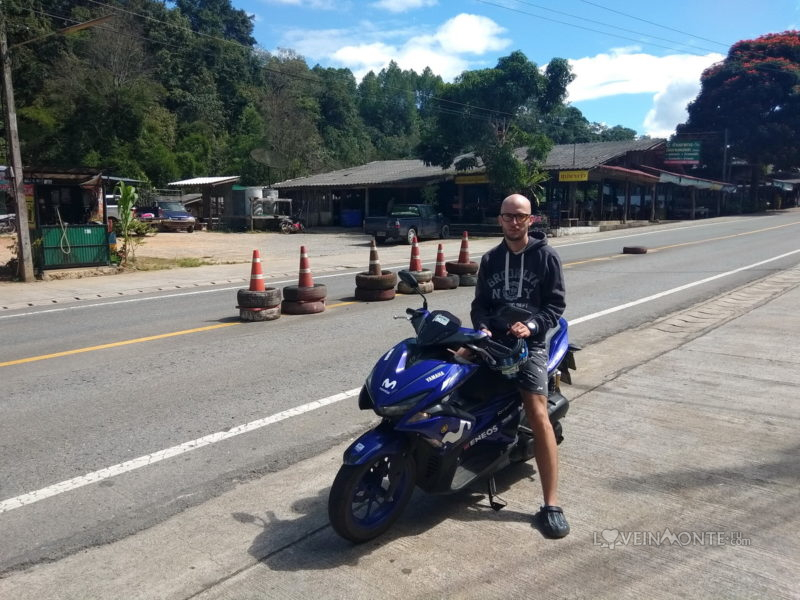 Queue up
Than you should come to the Land Transport Office (located near the airport) with all the documents. You need to go to the 2nd floor, there will be an information desk — an employee will give you a number and tell you which counter to turn to.
Then you will have to sit in lines, then at the counter they will check all the documents, set the time and date when you need to come next time.
If it's not the high season / you are lucky / you arrived before 9 in the morning, there is a chance that you can start training on the same day. But it's not guaranteed.
Sashadid all that on October, 16 — and the next appointemet was only for October, 25. As far as I know, now the situation has become even tougher, and it takes a month to wait in line. In such a situation, you can try contacting local driving schools — there are definitely some companies that can help the foreigners to do this faster.
How to get Thai driver's licence?
You'll have to sacrifice 2 days of your life to do that.
On the first one — yougo straight to the counter where you submitted documents earlier and wait. They will give a piece of paper with a number on it — this is your number in the study & exams room. So you need to take a picture or remember it (the paper will be taken away).
This is a training day, you will only learn some theoretical materials: videos with terrible accidents and traffic rules.
You'll also do some things to check if you can tell which colour you see, and push the correct pedal when you see the traffic lights — they're rather simple and do not cause difficulties.
These activities will last for 5 hours (1 hour is a break). Looks kind of funny when after the studies people get on their motorbikes and go home. People without driver's licence)
On the second day —  you'll first have a test on the rules. 3 attempts per day: at 10, 13 and 15:00.
50 questions, you need to answer correctly  at least45. You'll be given an hour, that's enough, even too much.
We have a suspicion that the tests are different and more complicated for the Thai people. As for the foreigners — all questions concern the rules like: don't turn on an intersection or a bridge; do not drive if you're drunk, have a heart attack or something is broken in the bike and so on.
There is a good website thaidriving.info where you can practice theory. And we also recommend to view the Thai traffic signs on Wikipedia.
If you pass the test successfully, you'll get the documents, take them to the track for the motorbike practical test and put in a special basket.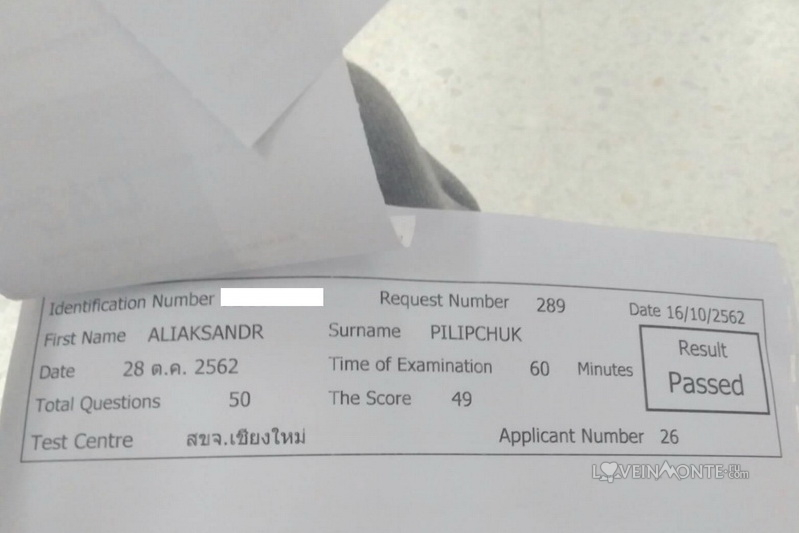 Later you'll need to drive your motorbike. First they will give you instructions, for the foreigners — separately and in English. The most important stuff: put on a helmet, fasten it tightly; drive the route, use the turning lights when you turn; don't step on the stop line and don't forget to stop at the stop sign.
The route is quite simple, the most difficult thing is to drive along the board 15 meters in length and 30 cm in width.
At high season, when there are many people passing, you may be riding in a row, one by one.
After that you'll get back the documents and you need to come back to the counter and again to wait in a queue. First, to pay — 105 baht, then to take the photo — and get your licence!
It's so cute, it has little pandas painted on it.
All in all, the license cost us about 1,500 baht. That is, they pay off for 3 stops by the police. We already had 2, and we're waiting for the third one to calculate the payback period)
Anyway, that meeting with the police is no longer stress (because even a small fine is a spoiled mood for half a day) —  2 minutes of a small talk and 1 more when they try to entertain Leo.
Wishing you to get your licence quickly & easily and have lots of pleasant trips after! Ciao!