A modern and comfortable townhouse, which is truely a home away from home.
We lived there for 3 months, all the time that we spent in Chiang Mai and honestly, we did not want to leave at all.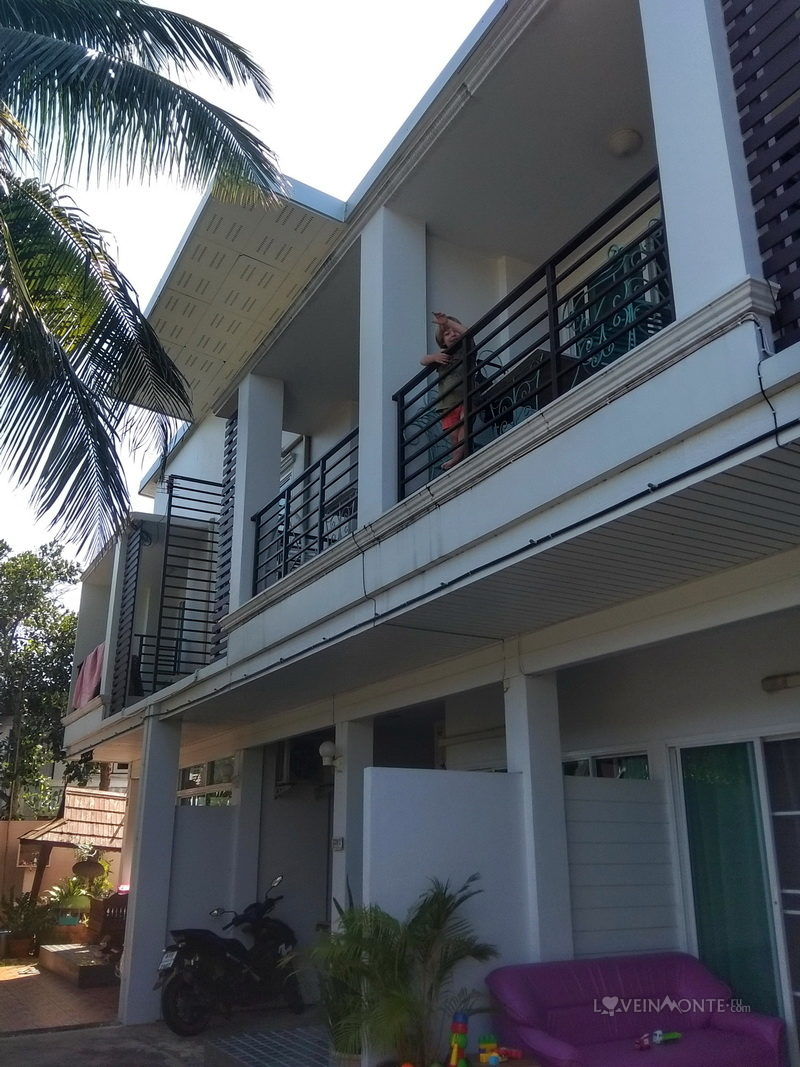 The Location
Fah Townhome is located outside the touristic center of Chiang Mai, this is the Nong Chom district. If you rent a bike / a car — this is not a problem at all. Without personal transport, it is better to choose a place closer to the downtown.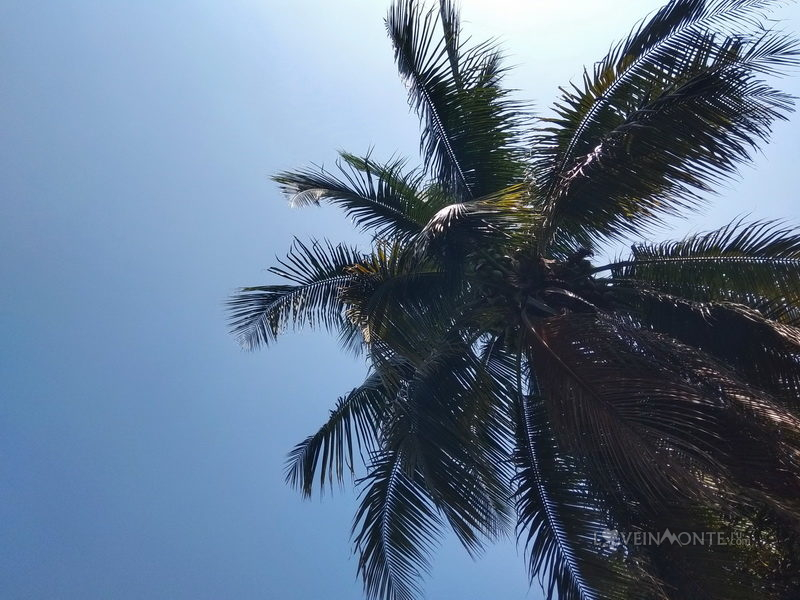 Nong Chom itself and particularly that partwhere we lived is a super comfortable place to live. This is a quiet village where roosters can sometimes walk down the streets, but at the same time within walking distance you have:
a) Moon Cafe, where at the price of 7/11 Vision brews excellent signature coffee, with a pleasant talk as a bonus.
b) There is a cafe with thai food next to it where a family of 3 can eat for like 100 baht.
c) There's a lady on the street who sells divine fried bananas in the morning.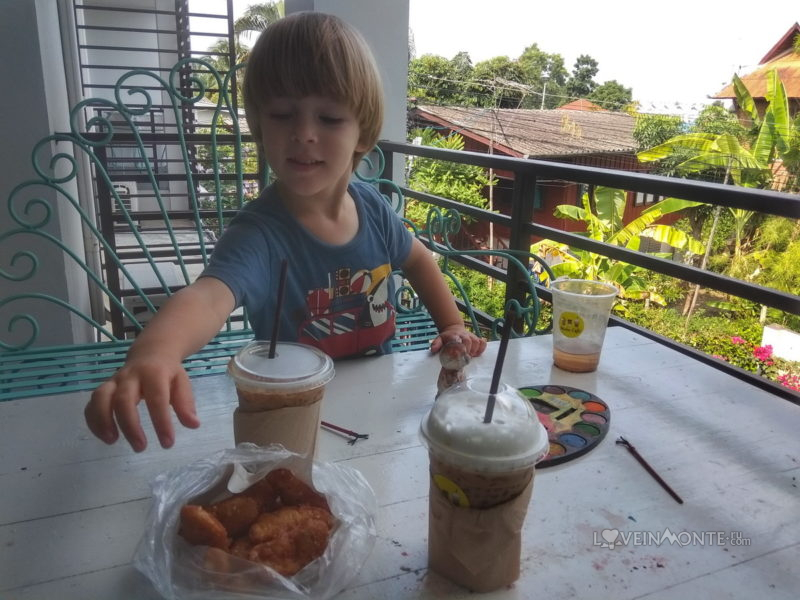 d) There are 2 self-service laundries nearby, only 20 baht per wash.
e) Two 20 baht stores with lots of useful stuff in them.
f) A market where you can buy fruits and vegetables at the cheapest prices I've ever met in Thailand in the morning. And also some ready thai dishes in the everning, around sunsets. A fish in salt for 69 baht, curry massaman for 30 baht, stir fry with minced meat and chili in equal proportions — for just 20 baht.  And they're soooo goood. There is a stall with brownies for 5 baht. This market is a real hidden gem.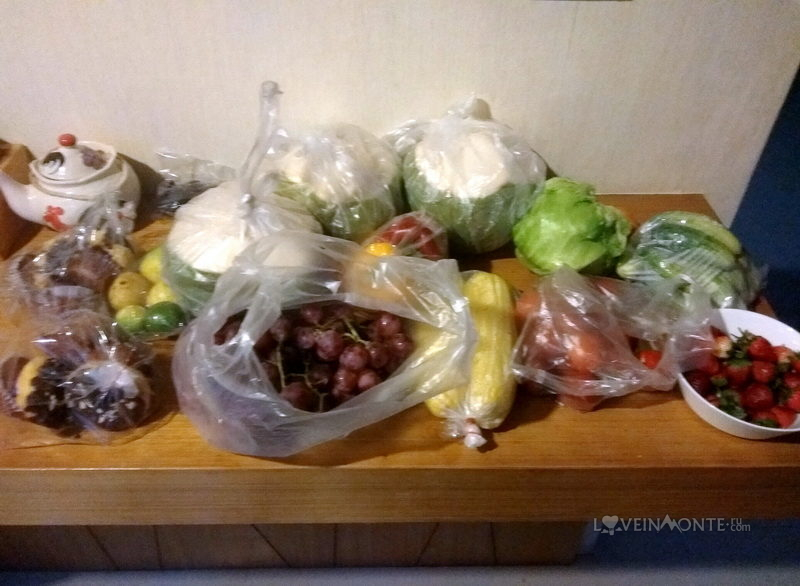 g) ATMs, pharmacy, 7/11, Mini Big C and Tesco Lotus Express.
h) A large well-equipped gym a 15-minute walk.
So, the area is great for living. And when we found a huge Makro 15 minutes drive, we loved it even more)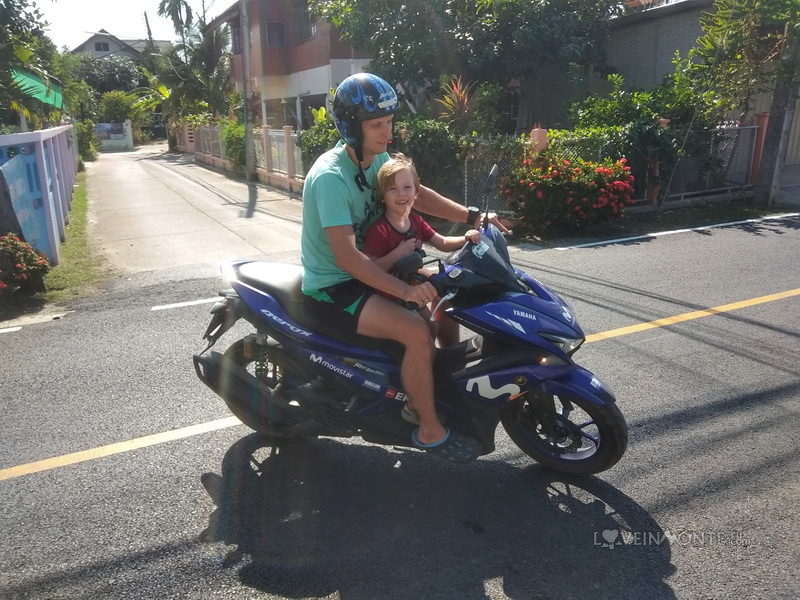 This is how Leo looks in those rare moments when we let him drive 100 meters from the cafe to the house without a helmet.
About Fah Townhome
Fah Townhome is a complex of four two-story townhouses in one fenced area.
In one of them lives a host family, the remaining 3 are for rent.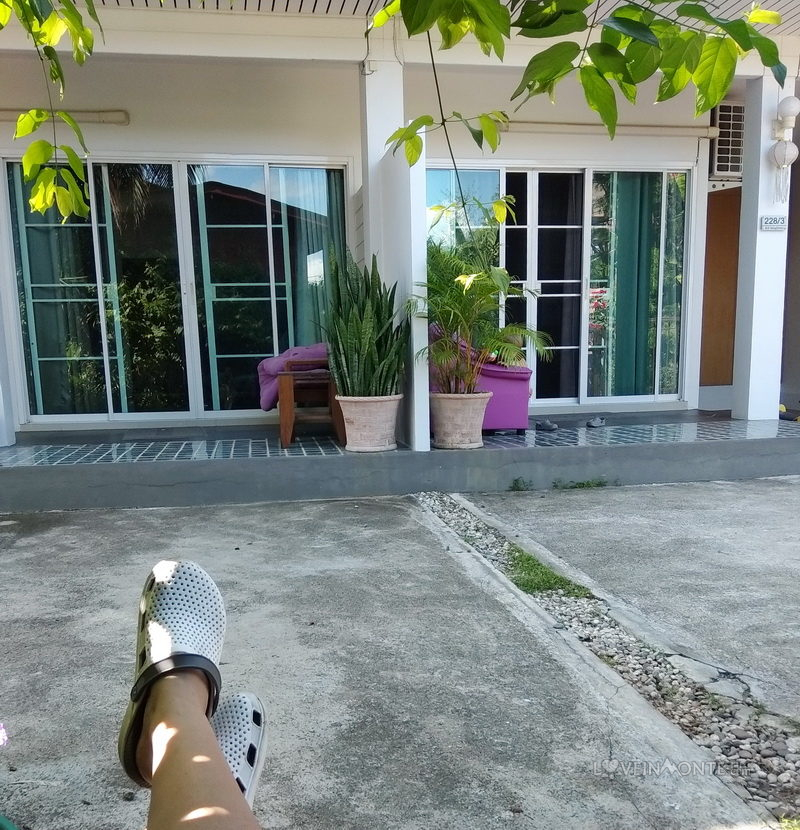 About our house
I must admit everything looked 100% like in photos in the add. Clean, beautiful, modern.
We had a small territory with a sofa and a parking place by the entrance.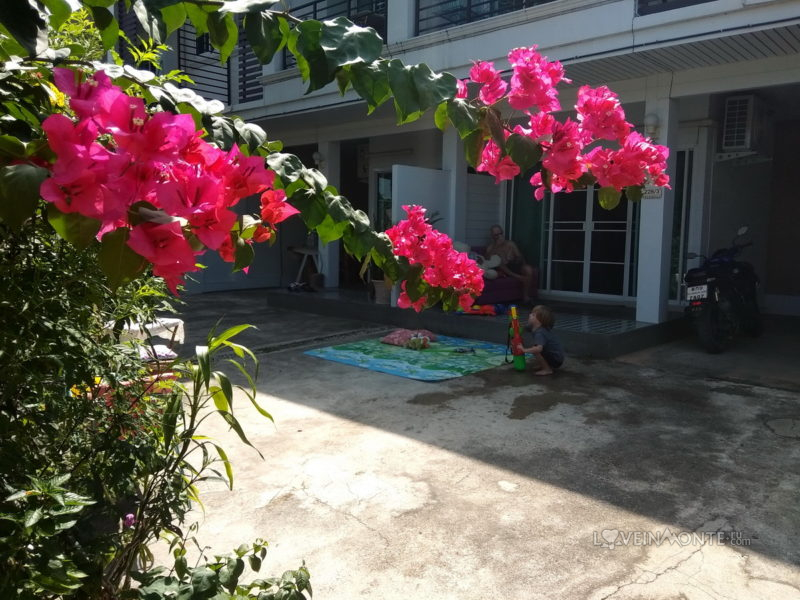 The ground floor consisted of the living room.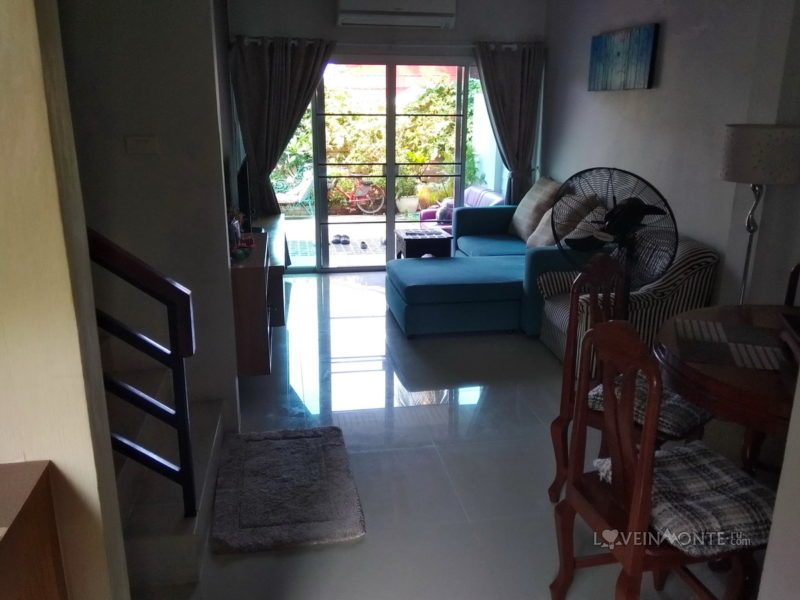 The dinner table.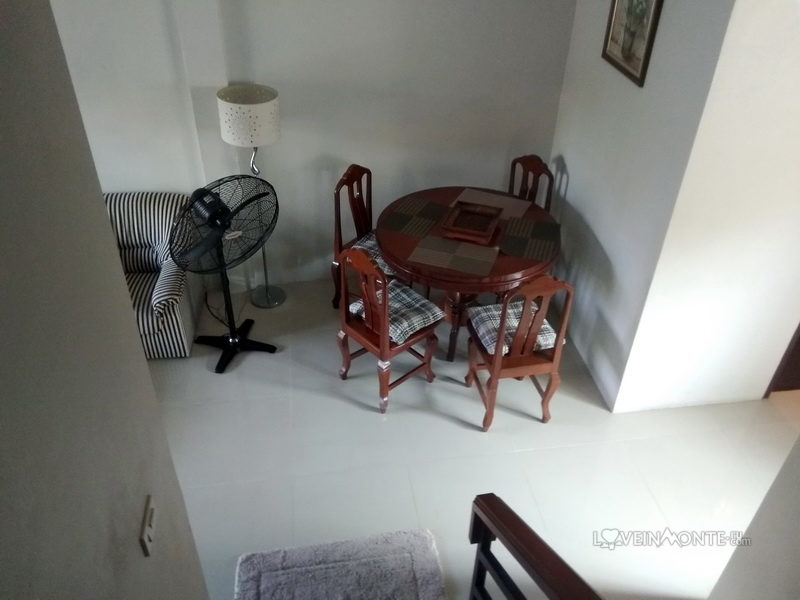 The kitchen.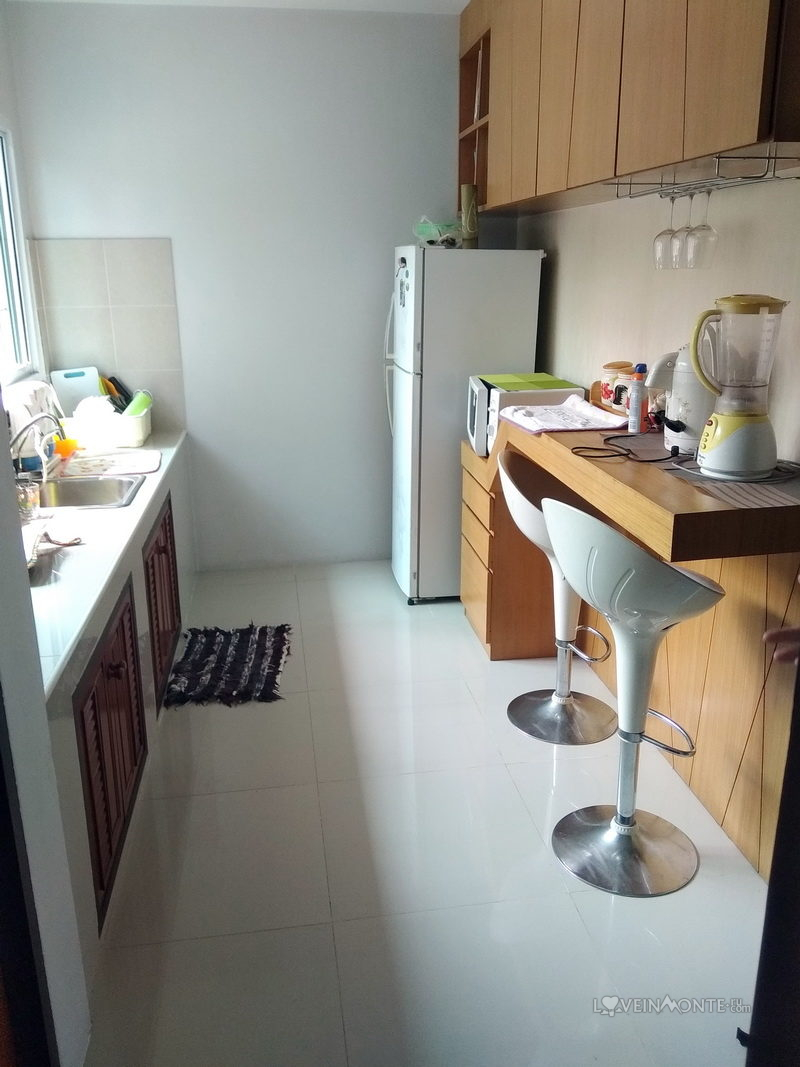 WC.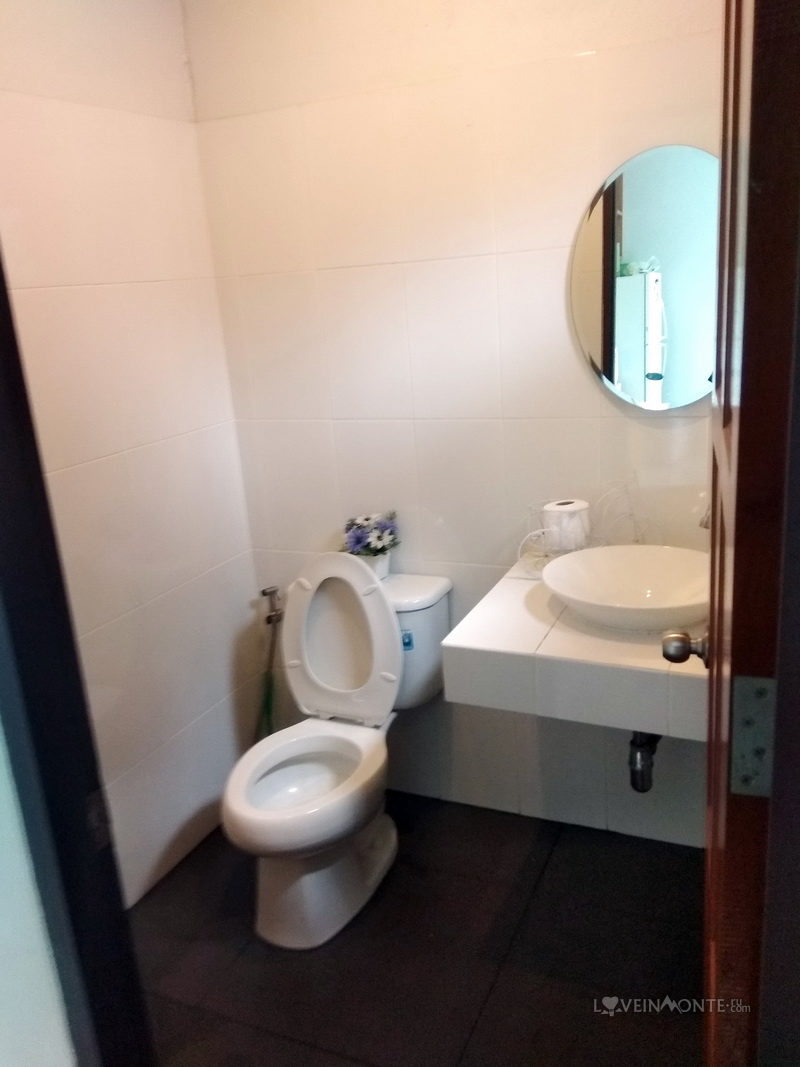 And the backyard. There we dried clothes, made some grill and Le0 had his own pool parties)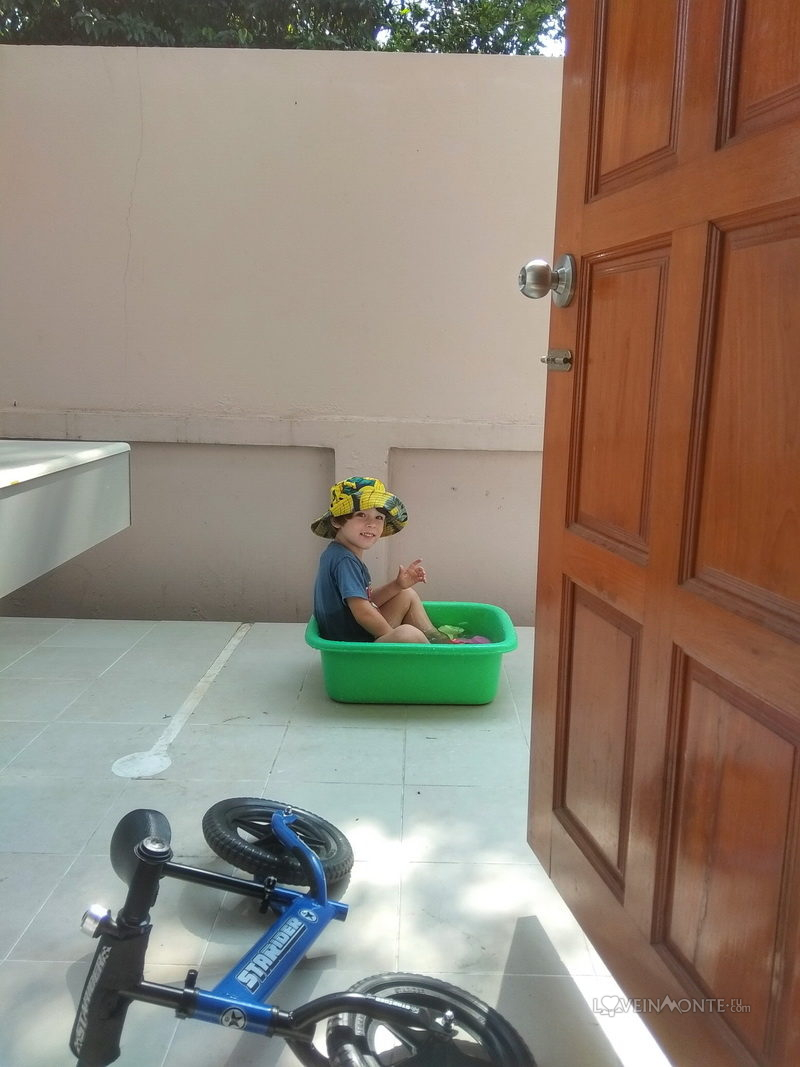 There was also a nice place under the stairs to store suitcases and things that you rarely use so that they don't clog other rooms.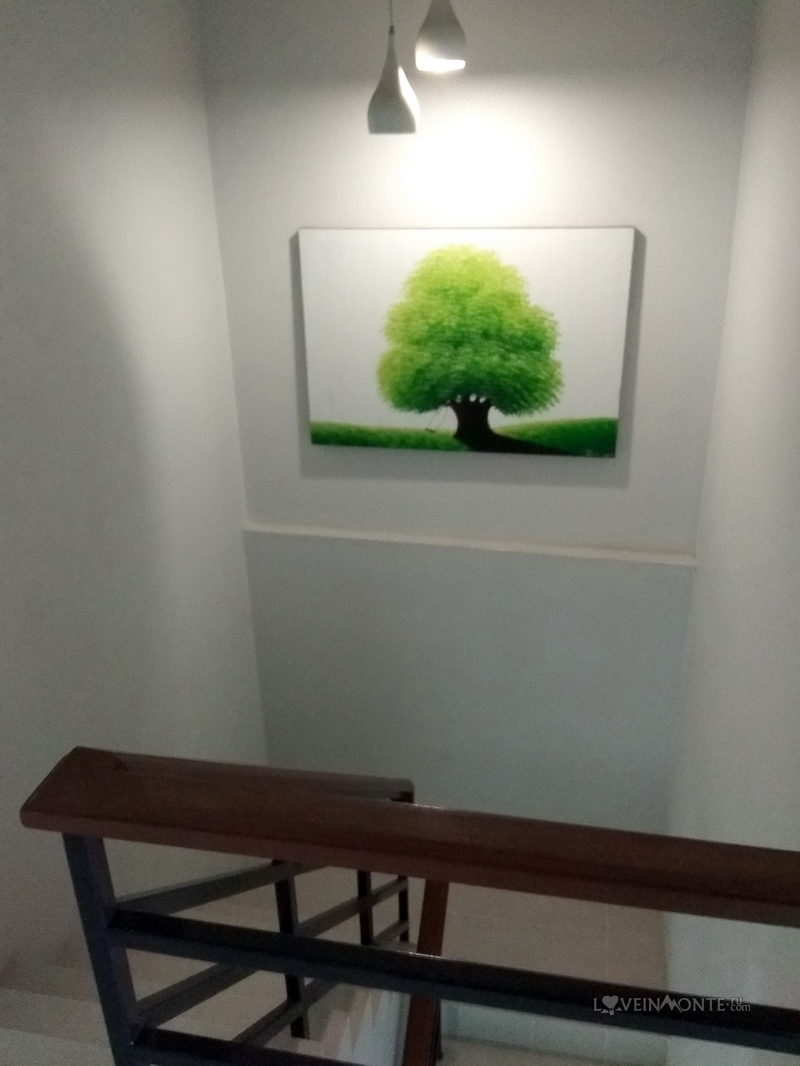 On the second floor, we had a spacious master bedroom. Like in the movies, with a sofa by the bed.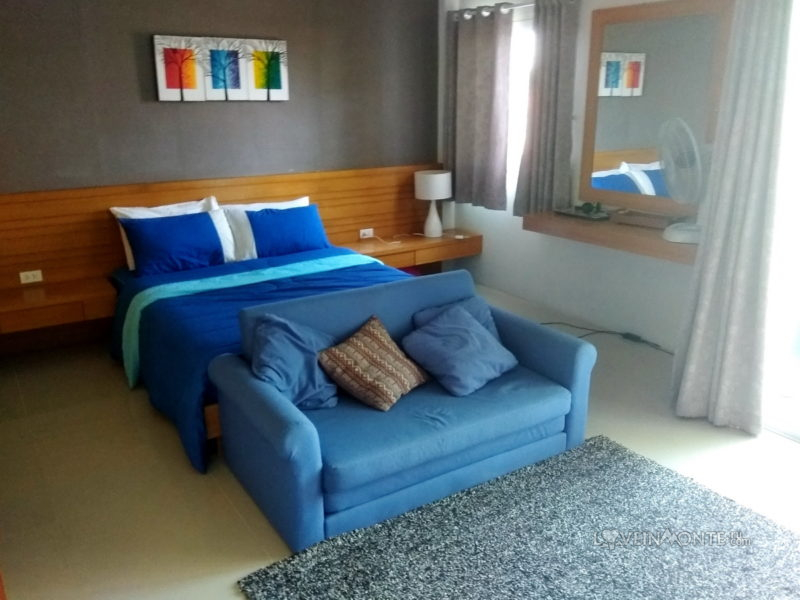 This is convenient, by the way.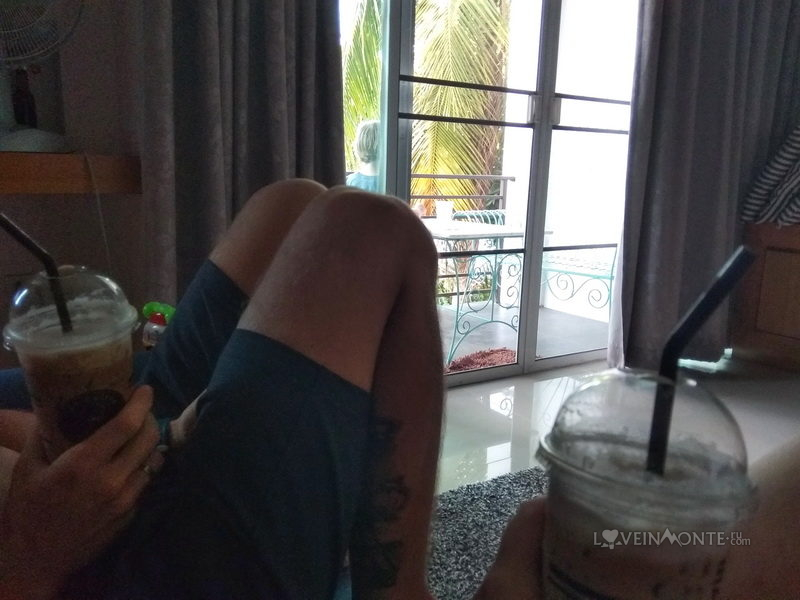 There was also a nice balcony attached.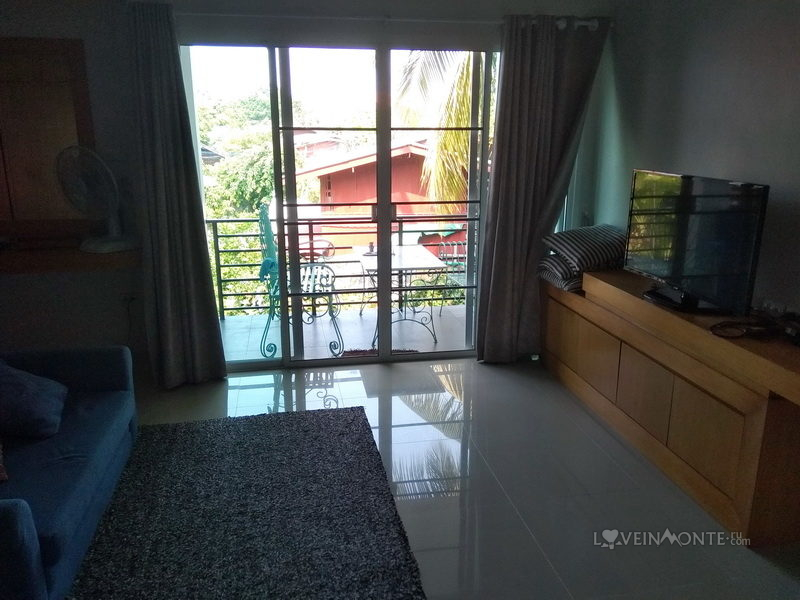 We usually had breakfast there all together and Leo used it as an artist's workshop.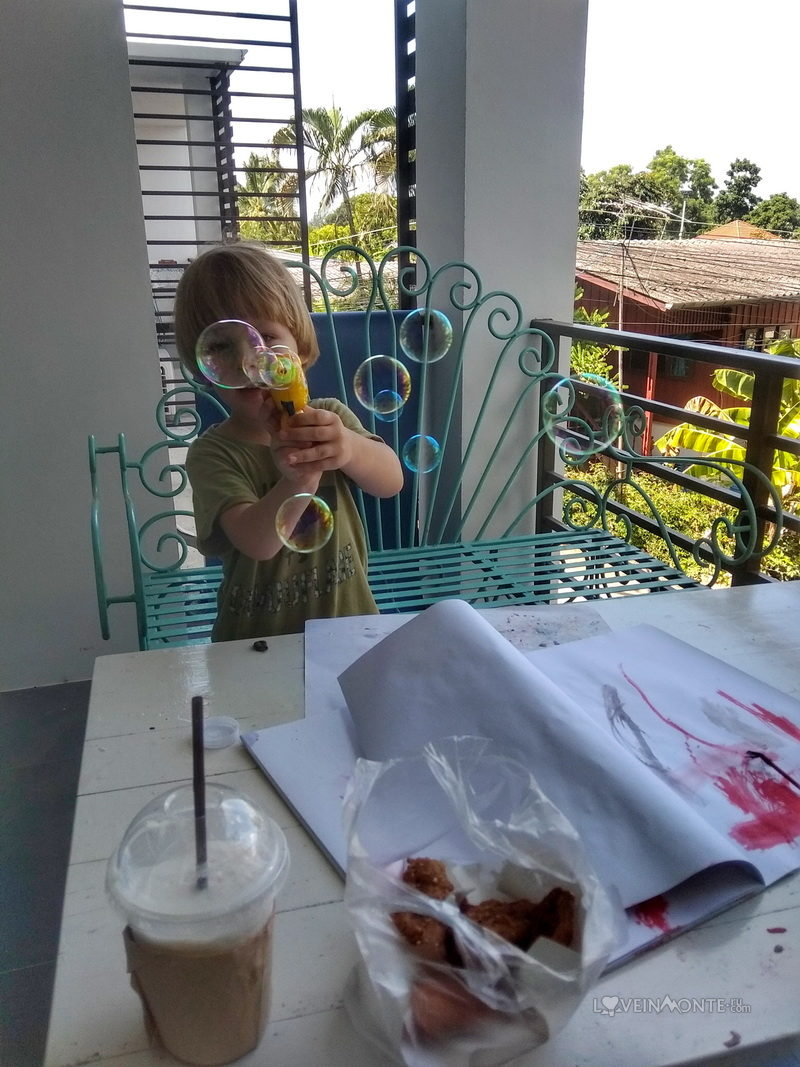 The second bedroom, a little smaller.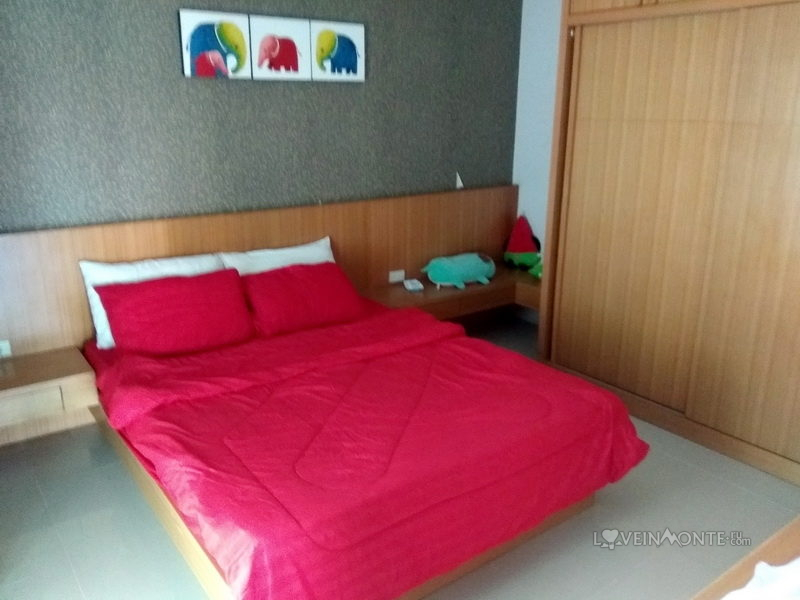 With its own balcony, also a little smaller.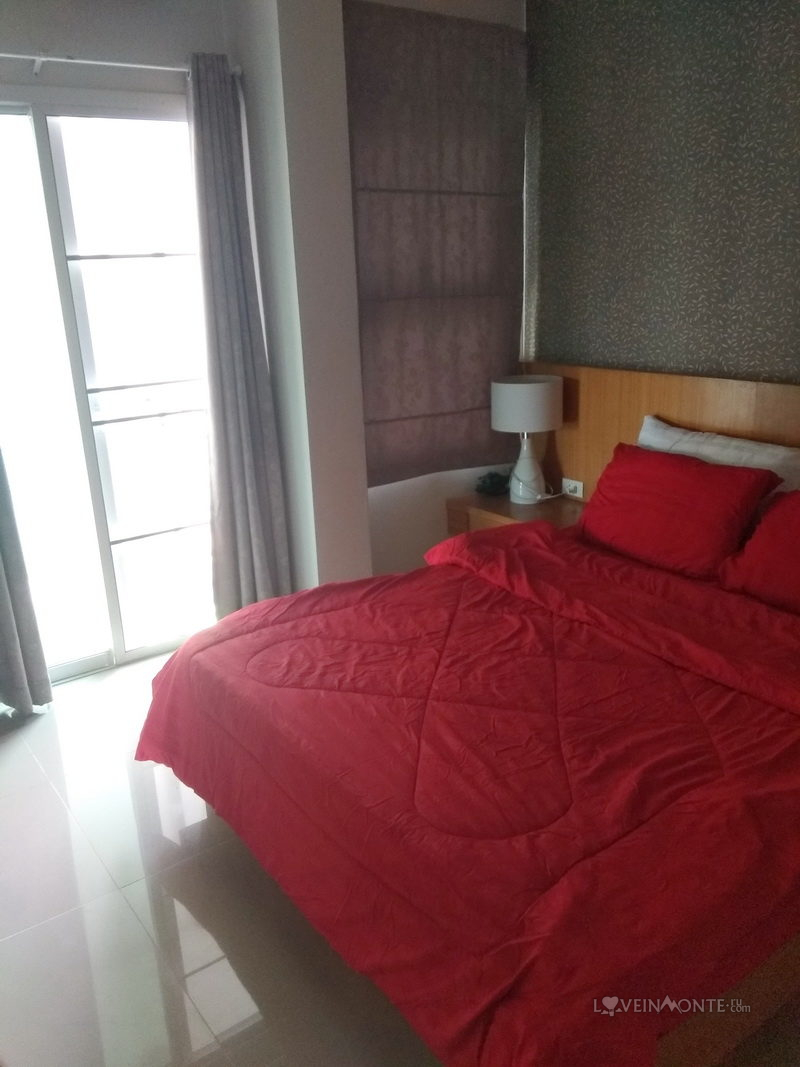 And the second WC, this one with a shower.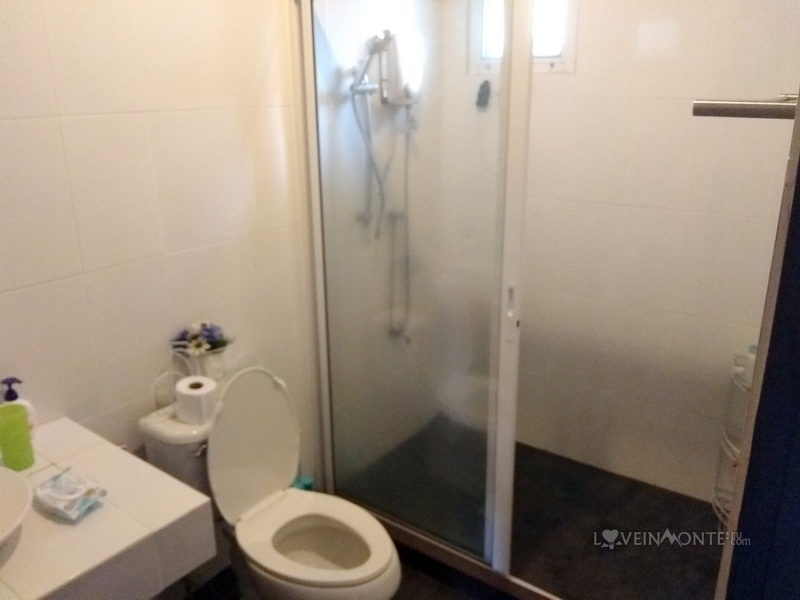 We rented this house for 2 months through Airbnb. And liked it so much that extended for another one.
It cost us about $ 550 a month. Absolutely worth the money paid. We had to pay extra only for electricity, with the fair tariff — 5 baht per unit.
I don't even remember how many times we've rented accomodation through Airbnb and most of the times were very satisfied with the service.
If you have not registered yet, you can get bonus for new customers which is around 25$.
The Real Thai hospitality
I should also mention the people who host this place, because it wouldn't be so cosy without them.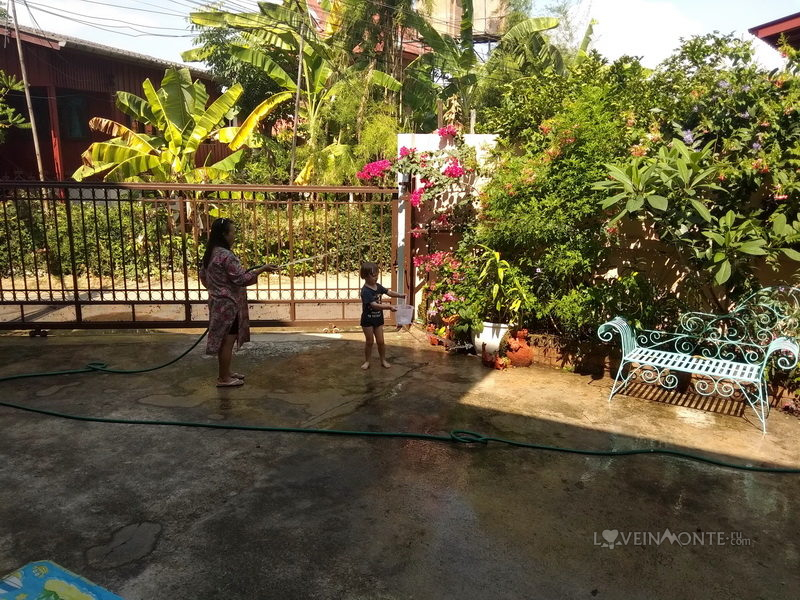 If you have been to Thailand, you can imagine what kind of friendly and smiling people live ther. So, in the north they are many times nicer, more generous and friendly than in the south. And we got one of the most responsive, friendly and smiling families that I've ever met)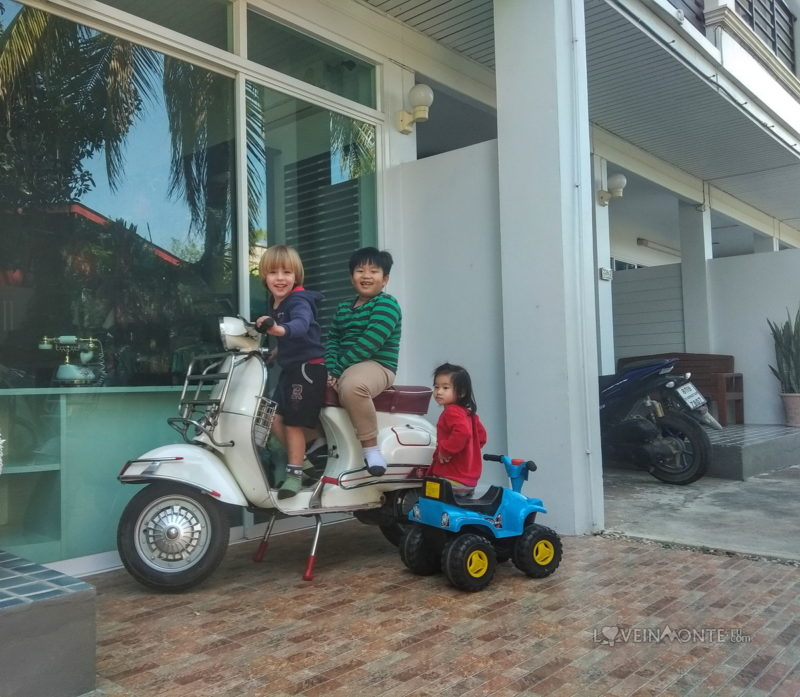 They played with our son, both in the yard and at home. Moreover, they did it with pleasure) He made friends with everyone and they taught him some English and Thai.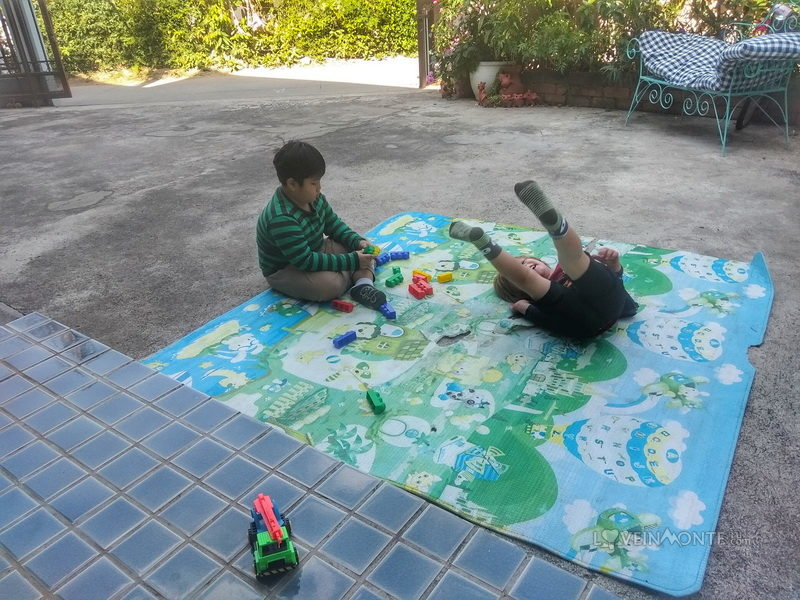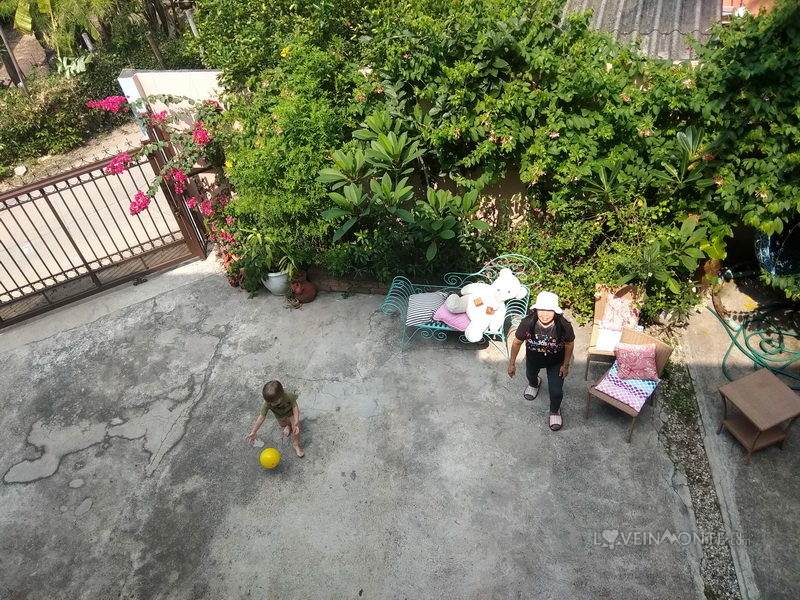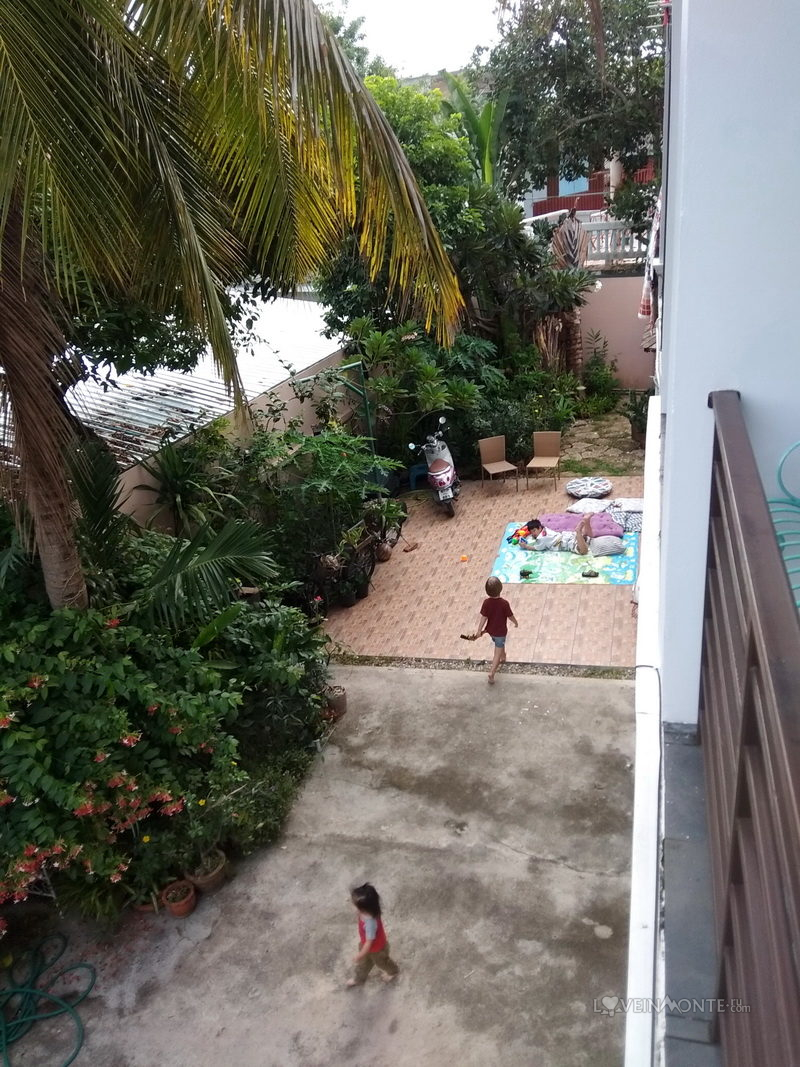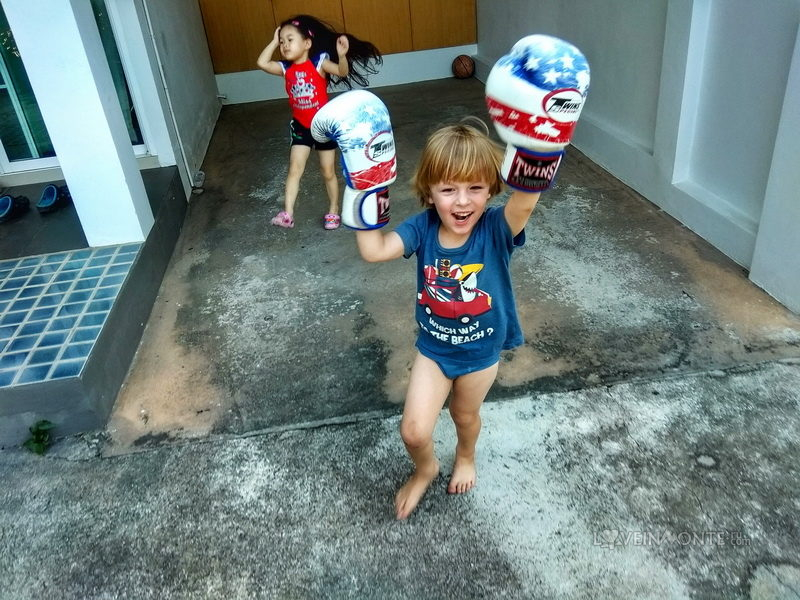 They often fed us with something thai, invited to several family holidays.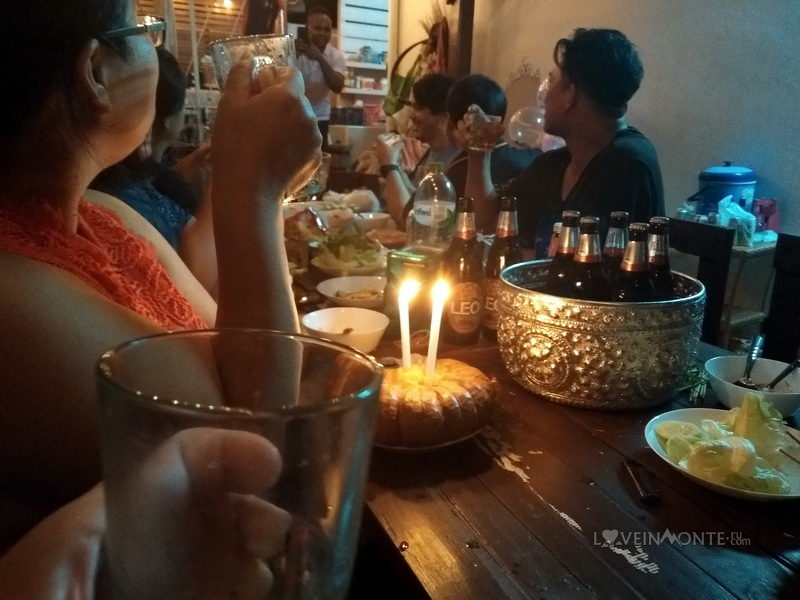 We met 2020 together. PD is a professionally tour guide, she took us to Sticky Waterfall, and showed everything like a pro. They took us to the train station when we left for Bangkok.
And I've already written above about Vision and his amazing coffee.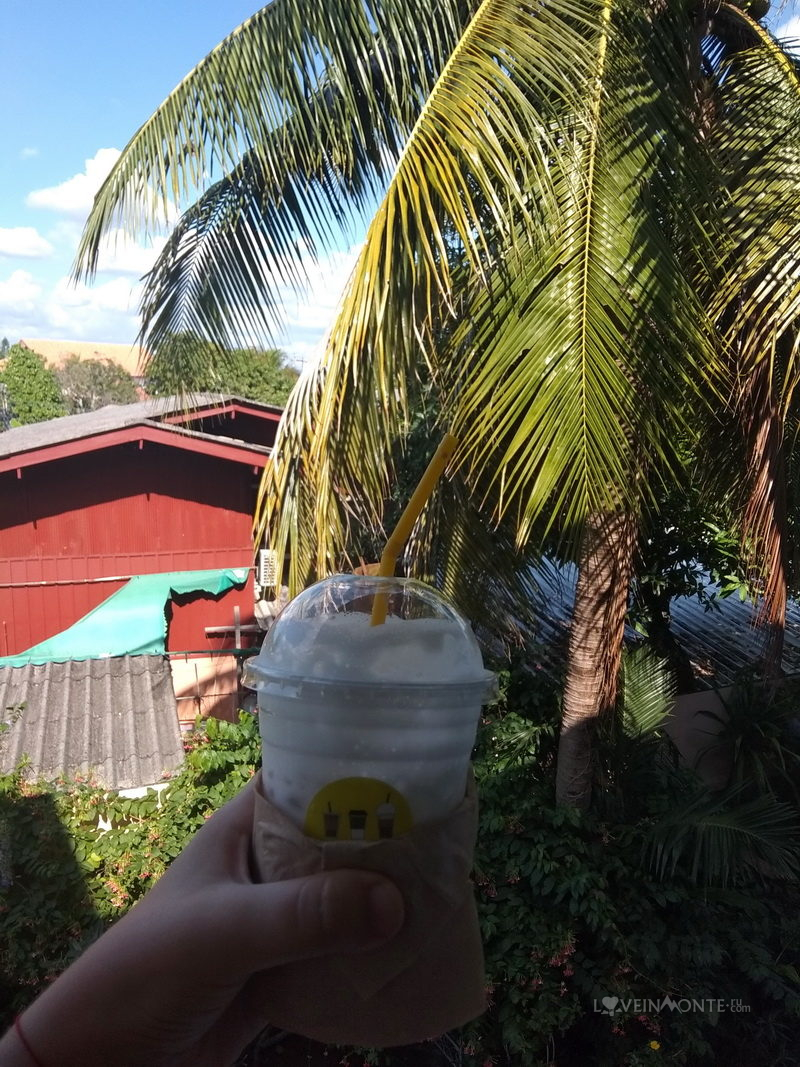 Really, really miss it now in Sri Lanka. Like, in fact, everything else that we had in Chiang Mai.
I'll tell you so — many airbnb hosts write in the ads that they provide a home away from home, but not all of them really do. This house exactly matches the status,  our 3 months passed quickly and very well. Happy and grateful for that time.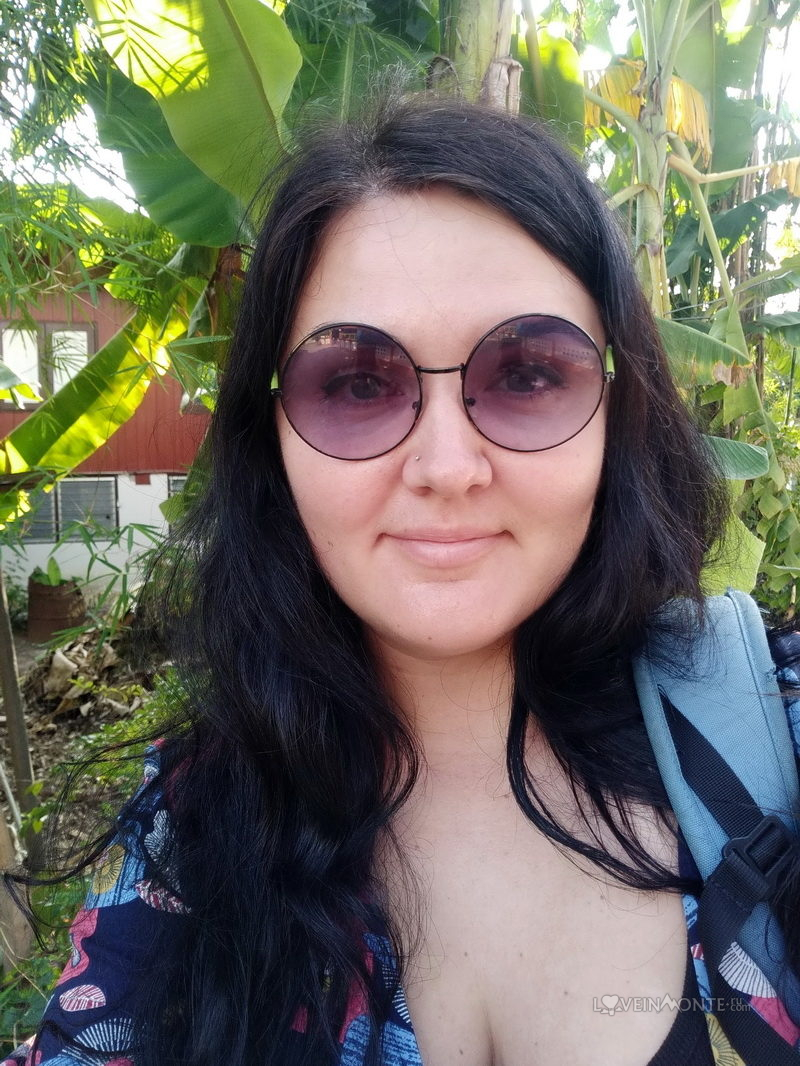 Have a nice trip! Ciao!