Batumi has its own small airport, very close to the city.
It is about 7 km from the old town and only about 3 km from the boulevard.
If you take a lobg walk  along the boulevard, you can even reach the runway. It starts immediately behind the beach, so if you want, you can take a look at the airplanes flying overhead.
The airport is small and there isn't much to do there, so I don't advise you to come to early before your flight.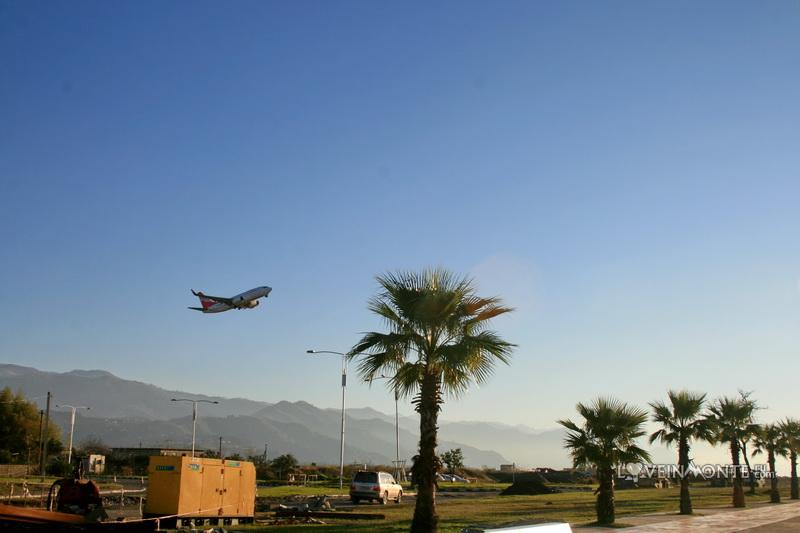 All in all, the airport offers:
A cafe.
ATM.
Currency exchange. The course is pretty much the same as in other places, without additional commissions.
It is stated that there is a service for packing suitcases, but it is not always available) Sometimes the right person is absent, and on such days the luggage will not be packed.
It is declared that there is free Wi-Fi, I'm not sure if it's true.
A souvenir shop.
Tourist information center. If open, you can turn to them if you have any issues, or simply to take brochures about Batumi, Adjara and other regions. And I suggest you do this, because that they are very well-designed and contain a lot of useful information. And completely free.
If you arrive or departure at night — all of the above will be closed, except for the ATM.
Parking in the airport is paid, costs 2 lari (for a day or for 5 minutes — doesn't matter).
Batumi Airport on the map
Check out the location:
How to get to Batumi from the airport
There are several ways to get to the city center:
Transfer. If ordered in advance, it is an excellent way to get a greet and meet service and to pay less than a taxi.
City buses №9 and №10. The stop is right at the entrance to the airport, there you can find an electronic board which shows how soon the bus will come. Unfortunately, this is a rather long way — Batumi buses are really slow going. And this option isn't suitable for tourists arriving at night.
Taxi. Private cars, who are on duty at the airport, charge higher prices. It is cheaper to use Taxi Maxim or Yandex Taxi.
Rent a Car. You can order that the car to the airport by the time of your arrival.
Schedule and airport table
The airport's official site is batumiairport.com and you can check today's arrivals and departures at http://batumiairport.com/en-EN/flightinfo/Pages/Flightinfo.aspx
Reference +995 422 235 100.
Flight schedule:
Have a nice trip! Ciao!