Do you need a visa to visit Sri Lanka, where and how to get it, what documents are required and how to obtain ETA (e-visa) online.
To visit Sri Lanka, you'll need to get a visa. Luckily, it's not difficult at all. I'll tell you about the tourist visa, because I received this type myself.
It can be obtained both upon arrival, right at the airport, ot in advance, at the embassy.
A tourist visa is valid for 30 days of staying. You can then extend it by another 60 if you want. And then by another 60-90, but more expensive and more complicated. I will write about this separately.
Sri Lanka visa for children
If your child is entered in the parent's passport, a separate visa does not need to be issued.
If he / she has a separate passport, then he needs a separate visa. For children under 12 years of age, visas are free.
Sri Lanka visa upon arrival at the airport
A visa upon arrival is issued for 30 days, allows a single entry.
It costs $ 40, you can pay in cash or by card. If you pay in dollars or euros, you will get change in rupees, the rate may be not really good.
You can simplify your life a little bit and get ETA beforehand — it's an electronic permission to enter Sri Lanka. It done quickly and simply through the Internet. As a result, your data will be already in the immigration database at the time of arrival, which can save time at the airport and eliminate some questions from the officer.
It costs $ 35 (in fact, almost 37 because of the commission) and the visa gives you double entry. This can be useful if you also want to come to the Maldives also.
A 48-hour transit visa is free of charge; you do not need to get anything in advance. But upon arrival, you will need to present a ticket to a third country and a hotel reservation in Sri Lanka, even if you arrive for only a couple of hours.
What is ETA and why you need it?
ETA is an electronic permission to enter Sri Lanka, issued on the website eta.gov.lk
The web site has an English version, everything is quite simple and clear.
Quite standard questions: personal data, the date of entry and fee payment.
After payment, you will get a confirmation email. It's better to print it out and take with you just in case.
ETA is valid for 6 months from the date of issue.
We flew to Sri Lanka from Bangkok and at the front desk we were asked to provide our ETA confirmation. Sometimes in such cases they also ask for a return ticket.
After leaving the plane, find the migration cards at the airport, fill out and carry along with the passports to the immigration officers.
By the way, a visa looks like a small sticker. And what's nice — it doesn't take a separate spread in the passport.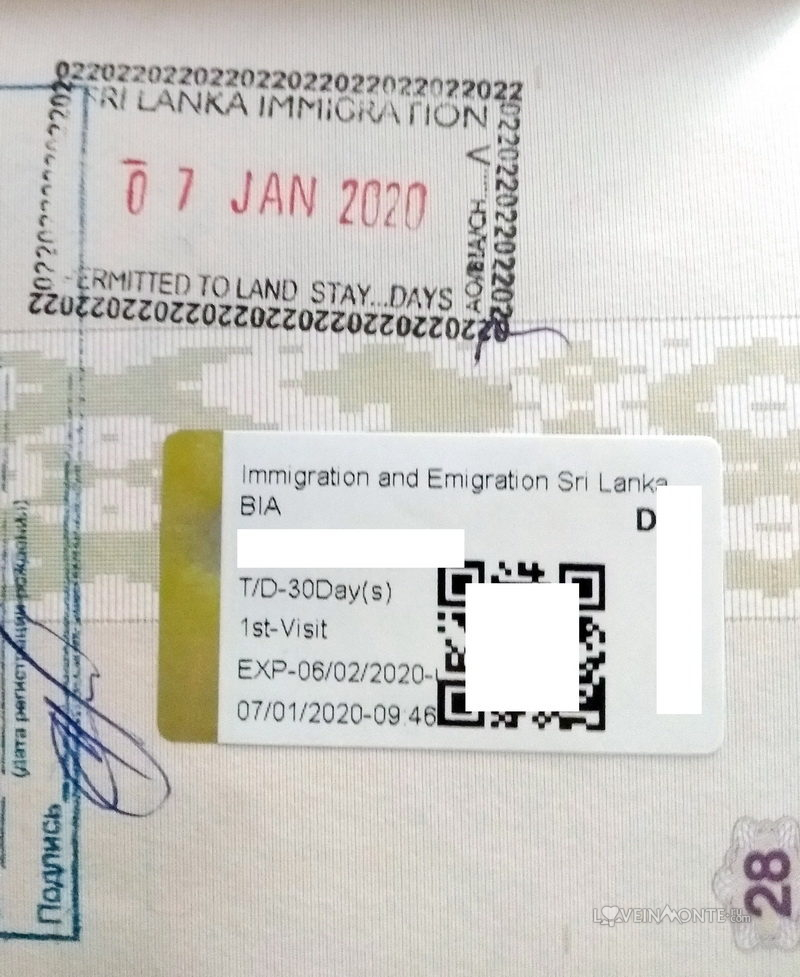 Documents for visa upon arrival
Passport which is valid for at least 180 days from the date of entry.
A return ticket. Sometimes it's checked at the front desk before flying.
Money of about $30 for 1 day of stay (not necessarily cash). They don't usually check.
What to do at the airport when you arrive
When you leave the plane and get to a big room full of people — first of all, find a table with migration card forms, take one and fill it out.
Then look for the «Visa on arrival» box, come there with documents and $40. After — with a receipt of payment, migration card and passport — go to passport control.
Sri Lanka Migration Card
The form is quite simple. The greatest difficulty for us personally was that we stood an extra queue, not knowing that we had to fill it out…
You can use the black or blue pen, write in English. Forms are filled out at all, including children inscribed in the parens' passport.
Here's a sample of filling out the migration card to Sri Lanka:
The flight number you arrived at.
Passport, ID.
Nationality..
First name and family name.
Address in Sri Lanka.
The number of children traveling with you. For each you need to fill out a separate card.
Where did you travel from.
Mark the purpose of the visit, date (day, month, year) and signature.
That's it!
Overstay
For an expired visa, you'll get a fine on departure from the country. The amount is determined by the immigration officer. You can be very lucky and they'll let you go just like that, or a little less lucky, and you'll have to pay $25-50, or very unlucky — $ 500, or even more severe measures, depending on the duration of the overstay. So you'd better just renew your visa on time.
Have a nice trip! Ciao!